May 21
A Prayer for the Woman of War
Ephesians Chapter 6:5-20
Father God, exalted in the throne room of Heaven, You are mighty to save, protect and advance me in the day of battle.  You are a warrior O God, and I, Your armor bearer.  I follow You into battle clothed with the bravery You have woven for me.  I take up the belt of Your truth and gird myself about the waste.  I hold to Your truth and walk accordingly.  Your truth is life unto my bones. 
I put on the breastplate of the righteousness I have in Jesus Christ.  I confess my need for forgiveness, and apart from Jesus I am ever sinful in Thy sight.  I am righteous in Him and in Him alone.  I will live according to His righteousness and not my own works.   I am in agreement with You Father so I take up my shield of Faith, hiding myself behind in the trust I have placed in You and the truth of Your Word.    Without faith I cannot please You.  Enlarge my shield today and keep me following behind You in the greatness of the faith You give me.   Reflect the radiance of Your glory upon my shield in the battlefield, letting the enemy know I march behind the Living God, the God of Abraham, Jacob and Isaac.  Make my shield fireproof and extinguish every scheme and plot sent to rob me of life. 
I shod my feet of clay with the peace of the Gospel that saved my soul.  I will walk in the security of my salvation in You because Jesus has made me to be at peace with You.  Order every step I take and make my feet of clay beautiful for every life I walk into today.  Let me trod upon the pathway of the dying soul that I may bring them the good news of Jesus Christ before it's too late. Give my steps an urgency to pursue the lost souls. I take the helmet of my Salvation and cover my mind with its saving power.  Protect me from every destructive thought sent from the enemy and let it not penetrate my helmet.  I am saved, sealed, and will someday be delivered into your eternal presence.   Make my helmet a holy sifter straining out every thought that is not of you.  I give you the keys to my mind O God, stand watch at its' doors today. 
I reach into the holy sheath that is girded about my God and there I draw forth the Sword of Your Word.  It is sharper than any two edged sword.  I raise it unto the face of my enemy.  I renounce his power and authority in my life and the life of my family.  I will not turn to the right nor the left of the Living Word of my God.    Satan the Lord rebuke you this day!  You have no authority over me, in me or through me.  I will not run from the battle but stand today, fully armed with God's armor with sword in hand, drawn ready for action.
And to every evil spirit, every world force of darkness, every spirit of wickedness in the heavenly places within the sound of my voice, Hear me now:  I am the armor bearer of the Almighty God, the God of all Gods, the God of you and me.   I stand behind Him and the shield and power of His hand.  You are under His feet, your days are numbered, the eternal lake of fire is waiting for you.   I am victorious in Jesus. You have no influence on me today and you have no power over me.  In the name of Jesus I cancel every appointment you and your leader, Lucifer, will try and make with me or my family today.   
I am a mighty warrior, a woman of war, fully clothed with the military armor of Jehovah.  I am armed and ready for battle.  I walk on holy ground that has been seared with the fire of the Holy One Himself.   Nothing and no one shall come nigh my tent today!  In the name of the Mighty One Himself, Jesus Christ I pray.
In Him is every victory secured.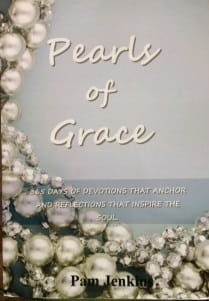 Pearls of Grace Devotional Book
Pearls of Grace is a book of devotions for the entire year, including a read through the Bible in a year calendar, broken down for every day. Beautifully written with encouraging words of hope and empowering words of joy and strength for every woman. Pam draws from the truth and richness of God's Word and gives real life examples in her down to earth style. A must have in your library, click here for more information.
For more from Pam Jenkins and Jabbok Ministries, please visit www.jabbokministries.com!
Listen to Pam Jenkins's daily broadcast on OnePlace.com.
For more from Pam Jenkins and Jabbok Ministries, please visit www.jabbokministries.com!
Listen to Pam Jenkins's daily broadcast on OnePlace.com.
Originally published Saturday, 21 May 2022.