May 19
Filled With Wonder
"…"There is no one holy like the Lord."
Did you know that while you were sleeping last  night, God was watching over you?   Before you arose, He had already commanded the sun to awaken from its slumbering state to rise and shine upon the earth He created.   He calls every star by name in the darkened sky of Heaven's canopy of space making sure not one is missing.   He knows the number of hairs upon your head and everyday of your life and mine, He has inscribed upon the tablets of time.  We are forever His and wonder of wonders, He is forever our God.   He knew us while in our mother's womb as He fashioned our heart after His own.   There is no one holy like Him.
Our heart should find its filling in the thoughts of God and who He is.  When our thoughts are captivated by Him then our hearts will become His captive.  It swells with praise that cannot be contained and it will long to serve God all of its days.  When was the last time you allowed your mind to be lost in the thoughts of God?  Or have you ever been swept away at the thought of Him?  The quiet moments of surrendered thoughts and unrestricted time before God's presence will be a life source to your soul.  You will find that God is most satisfying and all that concerns your heart will disappear before Him.  He is a safe hiding place, precious friend.  May you pray this prayer with me today!
My heart longs to know You more O God that I may become more of the woman You desire for me to be.  I long to be holy as You are holy Father because this is Your heart's desire for me.  Have Your way in me and in my life.  You are able to bring about good things from every situation of my life.  Thank you for everything that has come into my life because it has been filtered through Your fingers of love.   All that has touched my life has been brought about according to Your plan to bring about the character of Jesus in me.  Fill me with faith making my heart steadfast in its trust and security in You
Pour out Your blessings upon my life that I may be a blessing to others.  Give me the wisdom that comes from You making my mouth a fountain of truth.  Clear my mind of every anxious thought and wash away every other emotion that will cause my heart to fear.   I hope in You for all things.  You are trustworthy Father.  You have never failed me and You will not fail me today.  I give You my praise and affection.  I lavish You with my love.  Lift me up above the pressures of the world today bringing glory to Your holy name.  In Jesus name I pray.
Nothing less than all of you, Father.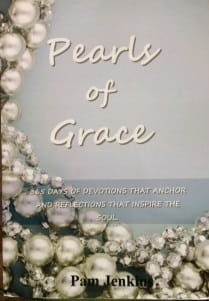 Pearls of Grace Devotional Book
Pearls of Grace is a book of devotions for the entire year, including a read through the Bible in a year calendar, broken down for every day. Beautifully written with encouraging words of hope and empowering words of joy and strength for every woman. Pam draws from the truth and richness of God's Word and gives real life examples in her down to earth style. A must have in your library, click here for more information.
For more from Pam Jenkins and Jabbok Ministries, please visit www.jabbokministries.com!
Listen to Pam Jenkins's daily broadcast on OnePlace.com.
For more from Pam Jenkins and Jabbok Ministries, please visit www.jabbokministries.com!
Listen to Pam Jenkins's daily broadcast on OnePlace.com.
Originally published Thursday, 19 May 2022.