May 17
Nothing To Lose, Everything To Gain
"Paul and Timothy, bondservants of Christ Jesus...for whom I have suffered the loss of all things, and count them but rubbish in order that I may gain Christ."
Philippians 1:1 & 3:8
Ascending from the shadows of affliction… breaking free from the dark hopelessness of a Roman prison cell, the sweet refrain of praise resounded, praising a God who is faithful at all times.  Praise that lifts the soul beyond what is seen into the realm of the unseen.   Praise that utters no cry for help, no longing to be free, no want for comfort, no defense, only to extend into the regions beyond present circumstances, taking no rest until it finds a lodging place at the footstool of Sovereignty.  Praise that refuses to be silenced by the agony of the earth, and steadfast, immovable, pure, bold, reckless, selfless, and fearless before its captors.  This praise ushers in joy, escorting every thought with power and obedience. It is unsearchable, indescribable, impregnable, indestructible, inexhaustible and undeniably real to everyone privy to witness its rising among the ruins of the earth.   
A soul condemned to death, forsaken, beaten, falsely accused, bound by chains ordered by Roman rule.  A soul which is no stranger to suffering.  He was no prisoner of man but rather a bondslave of his Lord and Savior, Jesus Christ.  He lived for one purpose, the Gospel and to proclaim it at any cost, unwavering and without fear. His sole purpose for living was to speak the one name given under Heaven whereby men must be saved, the name that gives life for death, hope for despair, love for hate, forgiveness for condemnation, redemption for bondage, the name above every other name….JESUS. This name was all that mattered, all that was worth living for and worth dying for. Though he had lost everything, he knew who held his destiny and that was all that mattered. 
This precious bondslave had learned the secret of endurance, the remedy for despair, and this spiritual truth continued to ring through the chambers of his heart over and over again.  God's work never ends in ashes.  It pushes through the corridors of pain, suffering and agony, finding solace in the arms of Heaven and there, cradled in the security of Holy purpose, peace is found.  You and I can know that peace and we can experience joy for living everyday of our lives, just as Paul did.  There is a peace that escorts joy into our hearts even in the most difficult times of our lives.  It is our heritage from the Lord Himself.  There is a life that will rise above every circumstance, every trial,  stand victorious in the land of pain, and rest in security even in the valley of loss. It's the life that has realized that there is nothing to lose, but everything to gain.
Own nothing – gain everything.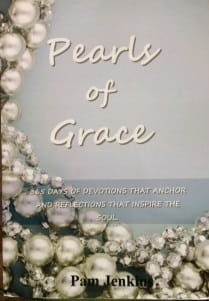 Pearls of Grace Devotional Book
Pearls of Grace is a book of devotions for the entire year, including a read through the Bible in a year calendar, broken down for every day. Beautifully written with encouraging words of hope and empowering words of joy and strength for every woman. Pam draws from the truth and richness of God's Word and gives real life examples in her down to earth style. A must have in your library, click here for more information.
For more from Pam Jenkins and Jabbok Ministries, please visit www.jabbokministries.com!
Listen to Pam Jenkins's daily broadcast on OnePlace.com.
For more from Pam Jenkins and Jabbok Ministries, please visit www.jabbokministries.com!
Listen to Pam Jenkins's daily broadcast on OnePlace.com.
Originally published Tuesday, 17 May 2022.