May 1
Releasing Your Pain
" and He Himself bore our sins in His body on the cross, that we might die to sin and live to righteousness; for by His wounds you were healed."
I Peter 2:24
There is a pain that cuts so deeply into the very fabric of our life that all hope is swallowed up in the valley of despair believing the garment of pain to be an enduring covering.  Wounds of the heart are not easily healed especially when the weapons of pain that caused it are still visible in our lives.  It's not coping that we long for but complete abandonment of  memory, all anguish, any reminder that keeps the wound open, obstructing the healing our soul so desperately needs.  What are we to do, beloved?  How are we to cope, to function, to find the restoration of joy and fulfillment that we long for?  Is it attainable to the one who has been inflicted beyond any repair we could know?  The Heavens resound with a triumphant YES!  Releasing or holding onto the pain and sufferings that life has dealt us is a choice that God Himself has given to all of His children.
With every wound inflicted upon the back of our Lord and Savior, healing was released into the lives of all who would reach out and lay hold of it by faith.  Every stripe His body bore opened up a fountain of healing waters for every soul thirsting to be renewed, restored, rejuvenated, released from all hurt, all pain and anguish of heart.  Hope is extended to every broken soul who believes that joy is unattainable.  There is a fullness, a wholeness, a renewed strength, and death to all that is past when we make the choice to extend our life into the hands of the Lord.  But it demands an utter relinquishing of every right to withhold forgiveness from those who have hurt us.   We must yield the power and drive to fix things on our own and allow release of emotions into the hands of a loving God.   We align ourselves with the will of God by surrendering the need to understand, and all desire to punish our offenders.  Only when we have yielded all our rights, can we receive the peace of God.
Too often, the things that we refuse to release to God become the chains that imprison our emotions in the painful prison of our past.  No one can surrender for us, beloved, this is only possible through a decision we make for ourselves.  Have you surrendered everything?  God doesn't just want our pain, He wants our very lives in whole.  Only when complete surrender is present, can God flood our lives with His presence and the healing balm of His power.  What do you need to let go of in order to have peace, to gain healing?  May you not miss God's best life, one that is free from pain and filled with the joy and love that only He can bestow.  You can be set free today by unlocking the door of your misery and letting God have the key.  His wounds are your healing.
In His pain, I am healed.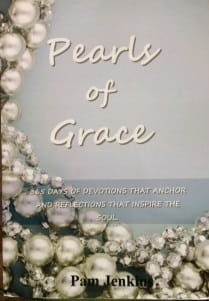 Pearls of Grace Devotional Book
Pearls of Grace is a book of devotions for the entire year, including a read through the Bible in a year calendar, broken down for every day. Beautifully written with encouraging words of hope and empowering words of joy and strength for every woman. Pam draws from the truth and richness of God's Word and gives real life examples in her down to earth style. A must have in your library, click here for more information.
For more from Pam Jenkins and Jabbok Ministries, please visit www.jabbokministries.com!
Listen to Pam Jenkins's daily broadcast on OnePlace.com.
For more from Pam Jenkins and Jabbok Ministries, please visit www.jabbokministries.com!
Listen to Pam Jenkins's daily broadcast on OnePlace.com.
Originally published Sunday, 01 May 2022.