March 9
Godly Confidence
"I can all things through Christ who strengthens me"
The apostle Paul was highly experienced in the field of depending upon the Lord! When you read of His testimony and what He had endured you get a glimpse of the miracle of God's working power in His life. He was beaten times without number, imprisoned, shipwrecked, and a night and a day he spent in the deep. He has gone hungry, been in danger of robbers and false brethren, in cold and exposure and suffered from a physical ailment. On top of all of this Paul had the daily pressure of overseeing the beloved churches God had placed under His care. Our brother Paul knew what it meant to be utterly dependent upon the strength and intervening presence of God in His life. When he tells the beloved people of Philippi that he could do all things through Christ who gives him the strength to do it, he was speaking from firsthand experience. This was not a statement made out of faith alone but life experience. Paul had been through the fiery furnace with the Lord and a testimony was born; a testimony of the sustaining and enabling power of Jesus. Once Paul learned this he wanted for nothing else.
Trials will sow the seed of endurance in our lives and when it has yielded this precious fruit, endurance will teach us what nothing else can; dependency, dependency upon God and none other because we have tried Him as silver in the furnace of life and He has come forth valiant and worthy. Having endurance as our teacher we are able to proclaim without hesitation to a needy world; "I can do all things through Christ who strengthens me." There is no need to fear or dread anything or anyone because Christ removes every limitation, every obstacle, all confusion and doubt, lifting our anxieties, removing every encumbrance. Through Him you are empowered and the enemy is rendered powerless. Through Jesus we have no more excuses!
Are you at a difficult passage today or do you find yourself in the place of uncertainty? Maybe you've been given a task that you feel completely unworthy of and absolutely inadequate to undertake? Are you facing a situation in your life that you do not have the strength, courage, or means to handle, or do what you know you have to do or should do? Do you need courage this hour like you have never known before? Is facing tomorrow fearful or uncertain for you because you don't know what you are going to do or how you are going to make it through? Remember the testimony of Paul and say with him; "I can do all things, all things, all things, through Christ who strengthens me." You are not alone, precious one. You have Jesus, and through Him you are empowered over every situation and every person. It's not with Him, beside Him, behind Him, or before Him but THROUGH Him that we overwhelmingly conquer. He's in it with you, and He is able. Sometimes we just need to hear the words, "YOU ARE GOING TO MAKE IT"! Praise Him today, and choose to face this day and tomorrow through Him! Fear not!
Lord, you are my possibility.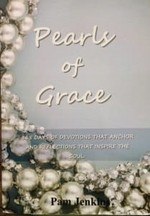 Pearls of Grace Devotional Book
Pearls of Grace is a book of devotions for the entire year, including a read through the Bible in a year calendar, broken down for every day. Beautifully written with encouraging words of hope and empowering words of joy and strength for every woman. Pam draws from the truth and richness of God's Word and gives real life examples in her down to earth style. A must have in your library, click here for more information.
For more from Pam Jenkins and Jabbok Ministries, please visit www.jabbokministries.com!
Listen to Pam Jenkins's daily broadcast on OnePlace.com.