March 5
What's in Your Water Pot?
"…everyone who drinks of this water shall thirst again"
Alone, weary, dejected, and thirsty she made her way down the mountainside carrying her water pot to the only source she knew of. She had come to this same place all of her life drawing water from Jacob's well. Where else was she to go? She was living with a man and having had five husbands prior, friends were scarce, no doubt, because of her tainted past. Her life had not turned out the way she dreamt of as a child and the canyon of her shame was wide and deep with no hopes of crossing over to a new and better life. She did the only thing she knew to do; go to the same well and fill up her water pot with the same water. It was an endless cycle with no sign of light, no hope for change. Until…
Jesus came to where she was and spoke with her face to face. He talked with her about her past and about her present. He showed her something so powerful that it not only changed her life forever but. an entire city! What she was putting into her water pot would never satisfy. She was filling it with the same water, instead of the living waters that only come from the Lord Himself. This woman not only learned of her thirst but she learned of the One who could meet her thirst, no matter what she had done. It did not matter that she had been married five times, it did not matter that she was living with a man presently; what mattered was she needed to draw from the living waters so she would never thirst again. Jesus asked her a very simple question that day: "give Me a drink"? Have you ever wondered why the Lord would become a beggar asking for a drink? In order for her to give Jesus a drink that day she would have to give Him her water pot to drink from. He had nothing to draw water with. Jesus wasn't after a drink of water; He wanted her to give Him her water pot.
We all have our water pots, beloved. The question is what are you putting in to yours? Is it the waters of the world? How often do we fill our own water pots with the things of this world to try and comfort, wash away our past mistakes, find peace and find satisfaction only to come up thirsty. We are by nature creatures of habit and we will continue to drink from the same well simply because we don't want change even when we know we need it. So, we continue to fill our water pots, our lives, with things that will never satisfy trying to hide pain, relieve our guilt, and find joy, contentment, peace, protection, purpose, love, healing, or just the strength to make it through another day.
If this is you, precious one, then do as this woman did; lay down your water pot at the feet of Jesus believing that only He can satisfy. He was all she needed and He is all you need and I need. He alone can meet our every need and even bring peace to the soul that has a past of shame. The one who drinks of the waters that He has will never thirst again. Did you get that word? Never! No thirst, no longing, no shame, no need, no guilt, no fear, no hopelessness and no wanting for anything else! What's in your water pot, beloved?
Fill my life with more of You and empty out my water pot.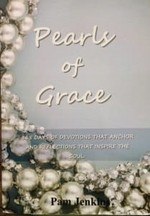 Pearls of Grace Devotional Book
Pearls of Grace is a book of devotions for the entire year, including a read through the Bible in a year calendar, broken down for every day. Beautifully written with encouraging words of hope and empowering words of joy and strength for every woman. Pam draws from the truth and richness of God's Word and gives real life examples in her down to earth style. A must have in your library, click here for more information.
For more from Pam Jenkins and Jabbok Ministries, please visit www.jabbokministries.com!
Listen to Pam Jenkins's daily broadcast on OnePlace.com.