March 3
Blueberry Pancakes and Divine Power
"Seeing that His divine power has granted to us everything pertaining to life and godliness…"
II Peter 1:3
It was late and having spent myself completely in the evening service all I wanted to do was enjoy a cup of coffee and have some nourishment for I had not eaten since that morning. I placed my order for some blueberry pancakes, my favorite, and a treat that I do not get to indulge in very often. As the waitress placed a full pot of freshly brewed coffee on our table my eyes were drawn to a woman sitting all alone across the restaurant in a booth. Her table was covered in a pile of papers that were spread out in front of her like a heap of misery. She looked overwhelmed, her eyes full of despair as she placed her face down into her hands.
I immediately knew in my spirit that the Lord wanted me to go over to her. He whispered to the chamber of my heart; "go over there and tell her that I know about her and that I do care." I would love to say that the godly woman, buried deep within me, began jumping up with eagerness, but instead, she hid herself behind the fleshly woman who reminded the Lord how tired she was and how very much she wanted to do nothing but enjoy her blueberry pancakes! As I watched her, the Lord intensified His nudging of my soul to go over to her. Wanting to help the woman and ease my conscience, I even suggested to the Lord to send the precious sister in the Lord who had come to eat with me. But the Lord was relentless with me until I obeyed. I haven't learned much in this life, but one thing I have learned is this: God will have His way even when it's not what I want!
I walked over to the lady's table and told her who I was and said to her: "I know this may sound a little strange, but the Lord has sent me over here because He wants me to say to you that 'He knows about you and that He cares for you." With a look of total disbelief, tears began streaming down her face. I asked her if I could sit down, and for about 2 hours she, (Nora), began pouring out her life story to me. She told me that she had just bowed her head to pray asking the Lord; "do you even know about me, do you even care?" She went on further to say that she could not believe that God would actually answer her, let alone care enough to send a complete stranger over to tell her. Needless to say her story was one of great sorrow but God intervened and gave her the strength and assurance she needed at that moment. Blueberry pancakes and hot coffee were no longer important to me for I was reminded that; "…my food is to do the will of Him who sent me" (John 4:34). God's divine power has granted to us everything pertaining to life and godliness. even if He has to give it through a very stubborn Bible teacher who had to leave her blueberry pancakes in an I-Hop late at night.
God will take great strides in getting to us when we need Him, whether it be through the venue of one of His own or directly from His voice to your heart. He is ever faithful to prove Himself over and over again just so we'll get it. HE KNOWS ABOUT US AND HE DOES CARE! Maybe you are in the place where Nora was that night, needing to know God was near. Or maybe you are like me, the stubborn woman who sometimes wrestles with her heavenly Father to be obedient to speak His word to those around you. He is able to meet your need and mine, whether it's in witnessing to others of His amazing love, or needing the assurance of His presence from someone else no matter where we find ourselves.
Let my forbearing spirit be known to all that You are near.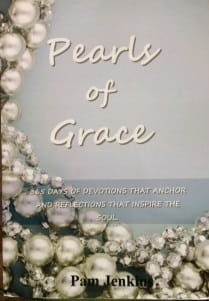 Pearls of Grace Devotional Book
Pearls of Grace is a book of devotions for the entire year, including a read through the Bible in a year calendar, broken down for every day. Beautifully written with encouraging words of hope and empowering words of joy and strength for every woman. Pam draws from the truth and richness of God's Word and gives real life examples in her down to earth style. A must have in your library, click here for more information.
For more from Pam Jenkins and Jabbok Ministries, please visit www.jabbokministries.com!
Listen to Pam Jenkins's daily broadcast on OnePlace.com.
Originally published Thursday, 03 March 2022.