March 26
Letting Go Is Hard To Do!
"…one thing I do: forgetting what lies behind and reaching forward to what lies ahead."
"There is no ongoing spiritual life without this process of letting go. At the precise point where we refuse, growth stops. If we hold tightly to anything given to us, unwilling to let it go when the time comes to let it go or unwilling to allow it to be used as the Giver means it to be used, we stunt the growth of the soul."
-Elisabeth Elliot.
If our hearts are bent on glory, then our life will be filled with a series of deaths, a continuous dying of self, a string of relinquishing of things, ownership and titles. It's a painful journey at times walking with God because we so desperately want to cling to the here and now, the tangible things of life that we can touch and hold. We hunger for ownership, identity and belonging instinctively. We cling tightly to what we can and when that grip is threaten by outside forces our survival mode kicks in. In desperation we anchor in to hold on to what we believe is rightfully ours. Bottom line, we are rebellious by nature! We so desperately want identity and belonging so we attach ourselves to anything and anyone in order to fill this need for security. After all, if we have control of it, then it can't go anywhere.
Eternity involves a process of letting go that we don't always understand. God had to let go of His Son in order to secure us and we must let go to receive His security. This process is intense and often costly in our eyes. But it is God's desire for His children to lay hold of the security of Heaven while living upon the earth. He draws back the curtain of His own struggle to show us the way to living fully in the grip of God's love. You will never know true security until you have surrendered to the fullness of God's love for you and that involves letting go of those things that are not pleasing or that vie for His attention. But once surrendered, your soul will find its' rest in the arms of a Heavenly Father who absolutely will never let you go, never do you harm and never fail you. This is the greatest love story ever told precious one. The story of you and a God Who has loved you all the days of your life; a God who stubbornly refused to let go of you until He possessed all of your heart for Himself.
God had to let go of everything in order to have us but we will have to let go of everything to have Him. It's costly, painful, difficult and at times profoundly overwhelming to our faith and abilities. It will not be what we expected nor will it lead us down the path we thought sure our feet would have been found upon. God will call for us to be extremely brave and exceedingly courageous beyond your wildest dreams and abilities. There will be times when we might wish we had never been born because our heart will think it's going to crush under the weight of God's will. But…heaven is our reward, eternal peace and life abundant is just ahead. The glory will far outweigh the fight and the gift far more than the price.
The storm that shook your nest taught you to fly.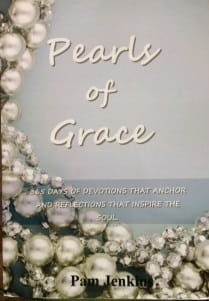 Pearls of Grace Devotional Book
Pearls of Grace is a book of devotions for the entire year, including a read through the Bible in a year calendar, broken down for every day. Beautifully written with encouraging words of hope and empowering words of joy and strength for every woman. Pam draws from the truth and richness of God's Word and gives real life examples in her down to earth style. A must have in your library, click here for more information.
For more from Pam Jenkins and Jabbok Ministries, please visit www.jabbokministries.com!
Listen to Pam Jenkins's daily broadcast on OnePlace.com.
For more from Pam Jenkins and Jabbok Ministries, please visit www.jabbokministries.com!
Listen to Pam Jenkins's daily broadcast on OnePlace.com.
Originally published Saturday, 26 March 2022.