March 25
Farther Still
"Not that I have already obtained it, or have already become perfect…"
In the 15th Century, Spain was the world leader. Their arrogance was reflected in the inscriptions upon their currency which read, Ne Plus Ultra which meant, "Nothing further". It means the highest point of excellence or perfection that one could reach. In other words they had reached the highest point possible. There was nothing more that Spain needed; they were the end, the all in all. Their inscription changed after the discovery of the New World to Plus Ultra which meant "More Beyond." How their attitude changed when they were exposed as not being as supreme as they thought. When something greater than you comes along, it makes for a powerful exposure therapy for self!
If Paul (the author of Philippians) had an inscription written upon his heart I believe it would read; "Plus Ultra"- "More Beyond". Paul yearned so deeply for more because there was more of the Lord to have and until he received all that he could this side of Heaven he would not slow up. The urgency and passion of Paul's yearning to have more of Jesus is a memorial for us, a pattern, a legend for us to believe in, follow and identify with. God doesn't want us to read the truth of His Word only, He wants us to run into it, clothe ourselves about with it and breathe it into the air of our lives. But first we must acknowledge our need for it, and our imperfectness. But how many of us really understand that there is always more of God to have, know and experience? We will never know all that there is to know about God because we cannot exhaust the understanding of Who He is!
This is our greatest hindrance to spiritual growth; we don't think we are in that bad of shape and after all we know everything we need to know about the Bible right? Let me point out a danger to our spiritual growth: The more we age spiritually, the further away we get from our Salvation day. When this happens, the easier it is to slack off the reigns of surrender and growth because we lose our sensitivity to the reality of self. In other words, we forget where we came from and forgetting we need God will follow! We believe we've grown and after all you can't teach an old dog new tricks! It's much easier to believe we've arrived than to know that we haven't even left the port .
We must have a reality check of self if we are going to experience Jesus as our reality. This drive to have all of Jesus comes from Him because He lives inside of you if you are His child. I believe God wants to awaken our souls to His presence abiding within us and as we rouse from our slumber of contentment, move us out in full run toward Jesus.
Make jesus your finish line and you'll never miss him in the journey.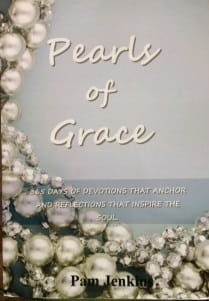 Pearls of Grace Devotional Book
Pearls of Grace is a book of devotions for the entire year, including a read through the Bible in a year calendar, broken down for every day. Beautifully written with encouraging words of hope and empowering words of joy and strength for every woman. Pam draws from the truth and richness of God's Word and gives real life examples in her down to earth style. A must have in your library, click here for more information.
For more from Pam Jenkins and Jabbok Ministries, please visit www.jabbokministries.com!
Listen to Pam Jenkins's daily broadcast on OnePlace.com.
Originally published Friday, 25 March 2022.