March 19
The Bigness of God
"Ah Lord God! Behold, You have made the heavens and the earth by Your great power and by Your outstretched arm! Nothing is too difficult for You."
One day the great painter, Michelangelo, entered his studio to examine the work of his students. As he came to the painting of one of his favorite pupils, he stood and looked at it for a long time. To the amazement of the class, he unexpectedly laid hold of a brush and splashed one word across the young artists' canvas… amplius, "larger." The master artist was in no way displeased with the painting, for it demonstrated great skill and artistry. But the small size of the canvas had made its design appear cramped. It needed to be expanded. The beauty of the painting was narrowed because of its surroundings. Our surroundings are never to alter the beauty of the Lord in our lives but rather enhance it. With every stroke of the Master's work upon us, our life must enlarge with it or the labor of the Artist is in vain.
The Lord may have to write the word "amplius" across many of our lives. Our spiritual view becomes confined, and our vision of what God wants to do in and through us is often restricted by our small faith and limited spiritual growth. He wants to increase the dimensions of our Christian walk, widen our outreach, change our perspective, and strengthen our witness. How often do we reduce Who God is because we have enlarged our situation? Our circumstances should never dictate God's position, resources or power. He is limitless and able to save, deliver, empower, sustain, rescue, love, forgive, redeem, heal, strengthen, guide, re-direct, create anew and when necessary even raise us up from the dead places!
How I pray we would ask God to enlarge the canvas of our perspective in such a way that Heaven is not dwarfed by our finite view and the greatness of faith is stretched across the chambers of our heart. Many times we try and squeeze the God of the universe to fit within our small finite view of life. We want God to confine Himself within our vault of thinking, our framework of understanding and absolutely be back up to our opinions and plans. God's plans are never what we would expect them to be. They are far more costly, more reaching, more demanding and yet all the more wonderful than we could ever begin to imagine. It's not God, precious student that needs enlarging!
God will never fit within your mold but He can mold your faith to fit Him!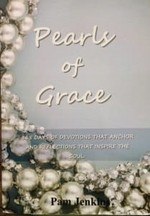 Pearls of Grace Devotional Book
Pearls of Grace is a book of devotions for the entire year, including a read through the Bible in a year calendar, broken down for every day. Beautifully written with encouraging words of hope and empowering words of joy and strength for every woman. Pam draws from the truth and richness of God's Word and gives real life examples in her down to earth style. A must have in your library, click here for more information.
For more from Pam Jenkins and Jabbok Ministries, please visit www.jabbokministries.com!
Listen to Pam Jenkins's daily broadcast on OnePlace.com.