March 17
Reflecting to Refuel "O my God, my soul is cast down within me: therefore will I remember Thee…"
Collapsing in the floor sobbing, weak and frail she cried; "I can't make it another day, I feel as though I'm dying spiritually, there is no way I can keep going." Her words of desperation still echo in my heart as it wrenched in grief for her over the situation. My precious friend had reached the end of her rope and exhausted all of her strength and resources trying to stay afloat in the pool of despair she had been sinking in for such a long time. The anguish of soul she was experiencing unveiled the desolation around her, shielding her view of all that was good and true. When our eyes are sheltered within our misery, our hearts are taken captive into hopelessness. We can't seem to even locate the higher ground of freedom, let alone know how to get there. Where is our deliverance from despair found, beloved? How do we escape the shackles of the low land of misery?
It is here in this low land that we need to gravitate to the reflecting pool of God and look deep into its healing waters that will restore, refresh and empower. Reflection is the cure for the weary soul and we can visit it even in the most despairing of circumstances. The beauty of reflection will reveal the glory of God that's been there all along but shielded from our view. God calls us to remember Him and His goodness to us in days past in order to carry us in the present ones. Reflection is your source of strength; it will renew your hope and steady your feet even when your world is sinking around you. It's the power to echo God and what you know to be true of Him in the canyons of life. These echoes of praise will raise you up to the heights of victory releasing every encumbrance for the future.
Your vision will be made clear, your strength renewed, and your feet will have power to trod onward no matter where He leads. Are you passing through a canyon of darkness wanting desperately to come out into the light, climbing a mountain of difficulty, walking the valley of despair having no sign of relief? Then look into the reflecting waters of your God and allow your heart to drink Him in fully. Your reflecting pool is unlike anyone else's, it is God's place where He allows you to replay your life with Him and all He's done. Your soul will leap within you, precious one, as you remember your God. These are your precious waters of history with you and God and they are most sacred, shared only between you and Him. What a Father you have. May you stand in awe and wonder of Him, not dreading tomorrow and knowing victory today. Reflect and refuse.
I will forget in order not to forfeit.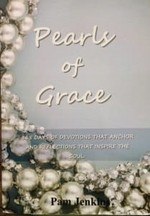 Pearls of Grace Devotional Book
Pearls of Grace is a book of devotions for the entire year, including a read through the Bible in a year calendar, broken down for every day. Beautifully written with encouraging words of hope and empowering words of joy and strength for every woman. Pam draws from the truth and richness of God's Word and gives real life examples in her down to earth style. A must have in your library, click here for more information.
For more from Pam Jenkins and Jabbok Ministries, please visit www.jabbokministries.com!
Listen to Pam Jenkins's daily broadcast on OnePlace.com.