March 10
God's Dessert
"But when He who had set me apart, even from my mother's womb, and called me through His grace, was pleased to reveal His Son in me, that I might preach Him among the Gentiles…"
You can walk in a room and announce the word, "dessert time", and faces will light up like a city nightline. Just hearing the word makes us smile and will even bring comfort to many of us. Have you ever had such a decadent dessert that was so fabulous you set it aside to enjoy at a later time; a time where you could savor every part, enjoy it fully, putting your mind totally at rest where you could focus all your attention on this marvelous treat? Have you ever taken pleasure in something so much that you wished you could capture it in a bottle, sealing it away for future enjoyment? I have!
There are those things in life deemed so special, bringing us such joy that we tuck them away for moments of celebration, occasions where we can honor their worth to us. This is what God did with you and with me. He saw such joy in us; He deemed us so special that He set us aside before we were even born in order to enjoy us at a later more perfect time. We are very much like God's dessert; He saved us by placing us apart from everyone and everything else labeling us, "belonging to God." And when the time was right, when God could focus all His attention upon us, a time when He could savor our lives fully, He took us in hand and began to enjoy us for His pleasure. God's timing is awesomely perfect; it's never overdue!
In God's vast wisdom and perfect plan, He looked ahead in time and etched out a span just for you to occupy. God designed you and I for a specific purpose and this purpose is going to bring Him total joy and satisfaction. When we grasp this truth, when we accept God's choosing of us, there is a fulfillment that comes that all of life's disappointments cannot rob us of. We find our purpose, our value, and our very life in this powerful truth; "God chose me and set me aside for Himself". You, precious one, are God's dessert! What a treat you are for Him and oh how He delights Himself in you.
Where are you looking, or to whom are you looking to find your worth, your purpose, your joy for living? Do you find your worth in others, in talents, accomplishments, relationships, money, looks or position? Do you compare yourself with others? Know this, you are uniquely God's! You are His delight and He wants to savor and enjoy every moment of your life for Himself.
Father, delight yourself in me.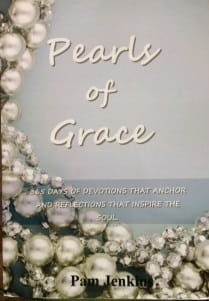 Pearls of Grace Devotional Book
Pearls of Grace is a book of devotions for the entire year, including a read through the Bible in a year calendar, broken down for every day. Beautifully written with encouraging words of hope and empowering words of joy and strength for every woman. Pam draws from the truth and richness of God's Word and gives real life examples in her down to earth style. A must have in your library, click here for more information.
For more from Pam Jenkins and Jabbok Ministries, please visit www.jabbokministries.com!
Listen to Pam Jenkins's daily broadcast on OnePlace.com.
Originally published Thursday, 10 March 2022.