March 1
The Power of Grace
"And He has said to me, 'My grace is sufficient for you, for power is perfected in weakness…'"
II Corinthians 12:9
The mere mention of grace and our minds instinctively turn upon God's salvation when we did not deserve it. Grace is always connected to giving in our minds and the giving is something we would consider to be good; something we would want to receive. Who wouldn't value mercy, love, compassion and forgiveness; who wouldn't want these priceless amenities in our lives. But when we think of grace,. how many of us think of sufferings, of trials, persecutions, physical challenges, and hopeless situations? Grace is that mysterious gift from God given to extend His power to us through situations that have rendered us powerless. The glory of God's power is manifested in the outpouring of His grace during times of difficulties. Knowing this, beloved, if the difficulties never come, how then will God's glory be seen? Grace is an all-sufficient perfecting tool in the hand of God; a truth known all too well by the Apostle Paul.
Paul was given a thorn in the flesh in order to make him weak. What kind of thorn Paul had is only mere speculation, thought to be a physical condition of the eyes. Whatever it was, God intended it to be a source, not of weakness, but rather of His power. The way up with God is always down, the way to first place is to be last, the way to get is to give, the way out is in, and the way to power is through weakness. His ways are incomprehensible and beyond our human reasoning; so vast and complex that the mind can't wrap itself around the understanding of it. When Paul came to understand this truth, he was set free in his spirit. All of a sudden his situation didn't matter. It was not about his circumstances any longer, it was about grace – God's grace. It took him three times asking the Lord to relieve his situation and being denied his request to come to this understanding, but he did. Paul understood that grace operates within the realm of weakness.
The weaker we are, the more powerful the grace.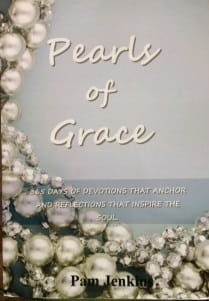 Pearls of Grace Devotional Book
Pearls of Grace is a book of devotions for the entire year, including a read through the Bible in a year calendar, broken down for every day. Beautifully written with encouraging words of hope and empowering words of joy and strength for every woman. Pam draws from the truth and richness of God's Word and gives real-life examples in her down to earth style. A must-have in your library, click here for more information.
For more from Pam Jenkins and Jabbok Ministries, please visit www.jabbokministries.com!
Listen to Pam Jenkins's daily broadcast on OnePlace.com.
Originally published Tuesday, 01 March 2022.