June 8
The New Road
"…he is a chosen instrument of Mine, to bear My name…"
<>>Acts 9:15
Plucked from the road of despair, the road of ruin and dishonor, Paul was chosen by God's own hand to bear the name of Jesus unto the ends of the earth.  It was the Lord who interrupted his life that day on the road to Damascus.  It was at this moment that Paul's life changed forever more, for he encountered Jesus for the first time face-to-face.  One cannot be in the presence of Jesus and be left unchanged, unmarked, or unclean.  It was not a friend that Jesus chose that day, but it was an enemy that He confronted, a foe that He called to.  Jesus chooses us not on the basis of our heart toward Him, but He chooses us based on His heart toward us.  He reaches out with His mighty hand, with glorious providence founded long ago, and brands us with His eternal mark, and our lives are never the same.  A mark that will bear the name of Jesus, God's only begotten Son, Savior of the world, Lamb of glory, Rose of Sharon, Lion of Judah, Lily of the Valley, the Bright and Morning Star, Alpha and Omega, the soon and coming King.  That mark separates us from every other person, from every other created thing which may be upon the earth.  His touch upon our lives will find us upon new roads. 
It is a mark that angels themselves do not even bear, for it is the mark of the redeemed, engraving upon the heart that says "belonging to the Lord."  This marked heart can no longer follow its own road, but it must follow the new road, embracing the plan that God has, and forsaking the old one.  Just as God had a plan for Paul's life, a mission for him to carry out, so He has for you.  A mission is only as great as the vision of the one leading it.  Wherever God calls He also leads, and where He leads the follower will never find failure.  It's that determined heart that is content to sail with sealed orders, caring not of the place he is going, but only of the One who has sent him.  What marvelous plans God has for you, what great unseen purpose that will be unfolded in all its splendor in the heavens on that day of Jubilee.  This wondrous and divine plan written out by the hand of God, just for you, is only for the breadth of life that you would expand. 
"Let it once be fixed that a man's ambition is to fit into God's plan for Him, and He has the North Star ever in sight to guide him steadily over any sea, however shoreless it seems.  He has a compass that points true in the thickest fog, and fiercest storm, and regardless of magnetic rocks."
                                                                                           --S.D. Gordon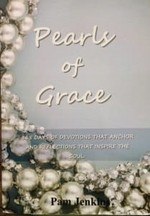 Pearls of Grace Devotional Book
Pearls of Grace is a book of devotions for the entire year, including a read through the Bible in a year calendar, broken down for every day. Beautifully written with encouraging words of hope and empowering words of joy and strength for every woman. Pam draws from the truth and richness of God's Word and gives real life examples in her down to earth style. A must have in your library, click here for more information.
For more from Pam Jenkins and Jabbok Ministries, please visit www.jabbokministries.com!
Listen to Pam Jenkins's daily broadcast on OnePlace.com.
For more from Pam Jenkins and Jabbok Ministries, please visit www.jabbokministries.com!
Listen to Pam Jenkins's daily broadcast on OnePlace.com.