June 1
The Beautiful Woman
"A Virtuous Woman, who can find For her worth is far above jewels."
Twenty-four years ago today, I gave birth to a beautiful baby girl named Stephanie Michelle.  Your first born is always a special event because it's a learning process.  I was a baby myself and I was scared to death!  All I ever wanted to be was a mother.  She was God's gift not only to me, but to so many others.   Before I was released from the hospital to take her home, I remember it was raining outside and the nurse had brought her to my room as if to say, "here you go, she's all yours now!" It was just me and her for a few moments.  I laid her in my lap and had my first official mommy conversation with her.  I told her I wanted to apologize up front before I took her home because I knew I was going to blow it.  But I held her tightly to my heart and because I wanted her to know that my heart would no longer beat the same; with every beat it would love her.  And today I can attest that not one beat has pulsated from my heart free from love for her. 
My precious first born taught me how to be a mother; she taught me what love really is.  It wasn't until I held her in my arms that I understood what God's heart must feel for His children.   With every beat of His heart, He is loving His child.  And when our hearts begin to unite with His, love takes on human flesh.  When this happens, a woman becomes truly beautiful, uniquely virtuous.  It's that rare, genuine beauty that is captivating because it draws you in away from what the natural eye can see.  A virtuous woman is not a woman who adorns herself with God's love, but rather she has allowed God to clothe Himself with her becoming a conduit of His heart and character; It's two hearts beating in one soul in perfect rhythm.
Audrey Hepburn was asked one time what her beauty secrets were.  This was her reply, which was read some years later at her funeral.
"For attractive lips, speak words of kindness.  For lovely eyes, seek out the good in people. For a slim figure, share your food with the hungry.  For beautiful hair, let a child run his/her fingers through it once a day. For poise, walk with the knowledge that you never walk alone. People, even more than things, have to be restored, renewed, revived, reclaimed, and redeemed; never throw out anyone. Remember, if you ever need a helping hand, you will find one at the end of each of your arms.  As you grow older, you will discover that you have two hands; one for helping yourself, and the other for helping others."
My precious first born is the living love of God in the world.  I pray that you and I would challenge ourselves to become the woman who God has wrapped Himself in.   What a difference your life would make in the world.    
Clothe me with Jesus everywhere I go.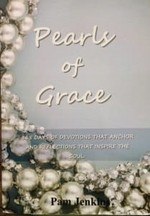 Pearls of Grace Devotional Book
Pearls of Grace is a book of devotions for the entire year, including a read through the Bible in a year calendar, broken down for every day. Beautifully written with encouraging words of hope and empowering words of joy and strength for every woman. Pam draws from the truth and richness of God's Word and gives real life examples in her down to earth style. A must have in your library, click here for more information.
For more from Pam Jenkins and Jabbok Ministries, please visit www.jabbokministries.com!
Listen to Pam Jenkins's daily broadcast on OnePlace.com.
For more from Pam Jenkins and Jabbok Ministries, please visit www.jabbokministries.com!
Listen to Pam Jenkins's daily broadcast on OnePlace.com.