June 18  
Plowing Another's Garden
"If anyone wants to sue you, and take your shirt, let him have your coat also."
Long ago in the foothills of Ireland there was a hardworking farmer who tilled the Lord's earth every day, from the time the sun peeked its head over the brow of the  mountains until it bowed low in the valley of evening.  He loved to feel the earth in the palms of his aged hands, and his feet walking through the rows of his harvest.  He had labored diligently over his garden hoeing, and picking out the many rocks.  After weeks of hard work and patient waiting the day had finally come to gather in his harvest.  Much to his surprise when he walked out with baskets in hand, someone had already gathered up the spoils of his beloved garden.  The farmer was heartbroken wondering who could have done this awful deed. 
The kind farmer made a visit to his neighbor to ask if perhaps he had heard or seen anything in the night.  Much to the farmer's surprise his neighbor was feasting upon the fresh vegetables he had taken from the farmer's garden.  The neighbor made no apologies and told the farmer that he would help himself to his garden anytime he wanted.  The farmer was at a loss for words and with head sunk low made his way back home. 
The farmer prayed that night for a long time asking the Lord what he should do.  He opened up the Holy Scriptures asking God to give him guidance from His Word.  After many nights of agonizing prayer, the farmer had heard from God.  The next morning the farmer was seen in the neighbor's yard removing all the rocks and soon tilling up the ground.  The neighbor ran out yelling at the farmer to stop asking him to explain what he was doing.  The farmer replied, "I am making you a garden of your own so you will not want for food again.  The Lord showed me in the night that your needs are more important than my own, and so I am planting your own garden so you will know the joy of your own harvest."  The neighbor was overwhelmed with sorrow for all that he had done to the farmer and quickly asked his forgiveness. 
This is the Lord's meaning when He tells us to love our enemies.  It means to give them our best and withhold nothing from them when it is within our power to do so.  This strives against everything that the flesh tells us to do.  It is unnatural to us by nature and goes against every fiber of our being.  If you had been this farmer, what would you have done?  Most of us would have fetched our gun (so to speak), and most of us definitely wouldn't have made a garden for our enemy, and yet it seems the most beautiful of things to do.   It was when we were in our worst state, when we were enemies with Jesus, that He died on an old rugged cross.   Found deep within the earth of the fields of your enemy will God find a beautiful harvest to sow?   Deep within the hard barren land, through the rocky places, will God  make a fertile ground that He may display His love and grace through hands of the precious laborer He places there? 
 It's here in this garden that God will work the ground of the heart of man, leaving no stone unturned, no ground untilled.  He will tend it with loving care and wait ever so patiently, giving it just the right amount of rain and sun until He sees the bud begin to bloom, announcing the coming of a blessed harvest.  God places us in the gardens of our enemies that He may yield a fruit in our fields.  Encounters with our enemies are fields of opportunities for God.
Pour out your best upon the head of your enemy, for the Lord has done so with you.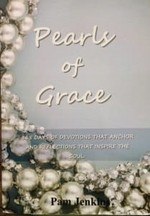 Pearls of Grace Devotional Book
Pearls of Grace is a book of devotions for the entire year, including a read through the Bible in a year calendar, broken down for every day. Beautifully written with encouraging words of hope and empowering words of joy and strength for every woman. Pam draws from the truth and richness of God's Word and gives real life examples in her down to earth style. A must have in your library, click here for more information.
For more from Pam Jenkins and Jabbok Ministries, please visit www.jabbokministries.com!
Listen to Pam Jenkins's daily broadcast on OnePlace.com.
For more from Pam Jenkins and Jabbok Ministries, please visit www.jabbokministries.com!
Listen to Pam Jenkins's daily broadcast on OnePlace.com.