June 16
Gifts of Pain
"Concerning this I implored the Lord three times that it might depart from me."
There was a young woman once that had the most beautiful voice I had ever heard. When she sang she had such a sweet anointing upon her, and the Lord used her mightily to minister to people all over the country, and even abroad.  Her father was a well-known missionary, and she traveled extensively with him ministering in song.  Her life was completely devoted to the Lord's work and to reaching people with the Gospel of Jesus Christ.  One day she was in a serious car accident which almost took her life.  For weeks her life hung in the balance and the doctors gave little hope of her recovery. Many people all around the world prayed for God to heal her and restore her to perfect health.  God spared her life but after a year of rehabilitation she found she could hardly muster up voice enough to speak clearly, let alone sing.  She was completely healed, except her gift for singing God had clearly taken from her. 
Why would God take a young woman's voice and take it away from her?  Doesn't He heal those who ask in faith?  Will He not freely give to His children what they request of Him, especially when it's not selfish but it's for His kingdom?  How many other tragic stories have we heard that are very similar or even more difficult to understand that leave us asking, "Why God would you let this happen?"  Does God not care?  Does God not hear us?   The apostle Paul asked the Lord three times for a physical ailment to leave him, but God did not grant his request.  If anyone would have the ear of God you would think it would have been the apostle Paul.  I believe God explained this mystery very clearly to Paul when He answered his prayer with these words: "My grace is sufficient for you."  God answered Paul with a no to his request, but He gave him something even greater that day.  He gave Paul a truth that would see him through even death someday, a truth far greater in value than any healing God could have bestowed upon him.  The balm of truth that God was all that he needed, or would ever need, was applied to Paul's suffering body that day.  God showed Paul that he didn't need healing; he needed Him. 
The same was true with this young woman.  God wants us to love the Giver without the gift.  To find that all we could ever want or need cannot be compared to what He alone can give us.  When we have Him, we want for nothing more, and we come to know Him as the all sufficient One.   It's not enough to know the promises of God, but one must know the one backing those promises, for the promises are only as great as the one who made them.  God could heal at just a spoken word, but many times He chooses not to that He might do some deeper work, reveal some greater glory.  It's in this revelation that brings an experience of God that could not have come any other way.   Man's greatest and only need is God.  He is the answer to any prayer.  Unanswered prayers are God's windows of revelation into Himself.
I prayed that You would remove this pain from me, but relief never came
I asked to glimpse the sun again, but still the clouds remain
I long to leave this valley of suffering, but my presence lingers still
I cried for understanding and found it in Thy will. — PJ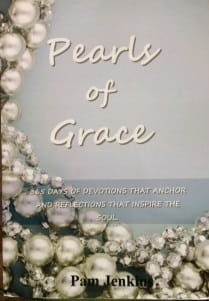 Pearls of Grace Devotional Book
Pearls of Grace is a book of devotions for the entire year, including a read through the Bible in a year calendar, broken down for every day. Beautifully written with encouraging words of hope and empowering words of joy and strength for every woman. Pam draws from the truth and richness of God's Word and gives real life examples in her down to earth style. A must have in your library, click here for more information.
For more from Pam Jenkins and Jabbok Ministries, please visit www.jabbokministries.com!
Listen to Pam Jenkins's daily broadcast on OnePlace.com.
For more from Pam Jenkins and Jabbok Ministries, please visit www.jabbokministries.com!
Listen to Pam Jenkins's daily broadcast on OnePlace.com.
Originally published Thursday, 16 June 2022.