June 15
"The LORD shall fight for you, and ye shall hold your peace."
Heavenly Father,
I come into Your glorious courts with my mouth filled with praise for You.  My heart overflows with abundant joy at the thought of You and my lips declare, "Worthy are You O LORD to receive all the honor all the glory".  Praise YOU, Magnify YOU, Exalt YOU, and lift high the matchless name of Jesus today and forevermore.  I love You Father and I thank You for plucking this brand from the fire and for giving my life a future and a hope.   My soul will be anxious for nothing today because I know You are watching over all things and I need not fear.   Thank You that I do not have to fight my battles because You have spoken that You will fight for me.  I lay down my weapons of the flesh and I surrender my battles into Your Hands of war! 
My God is a warrior and He will trample under His feet, all my enemies!!! Praise You God, Praise You in the highest Heaven.  By my God my mountains become a plain and by my God my enemies scatter, by my God my desserts become a well of life giving waters, by my God in the midst of the torrent storms I am at peace, and by my mighty God fear is no more!   Safe am I in Your saving arms Father. 
You are my hiding place, my refuge from every trouble, and a stillness for every disturbance that overwhelms my soul.  I will not fret today because of evil doers, I will not worry over my finances because You are my provider, my source and the keeper of my life.  I will not struggle with the burdens of my life but I give them to You Lord knowing that You are able to bear the load of them and I am not.  Shield me from every emotion of worry, anger, pride, anxiousness and fear Lord and sweep them away as quickly as they come.  I clothe myself with the strength of Zion today.  I adorn my mind with the soundness that I have in You, I shod my shoes with the peace of who I am in You and Who You are to me.  I take up the shield of faith by placing my trust in You God and choosing to take You at Your word.  I wrap my waist with the belt of truth which You have taught me from Your Holy Word and in it I stand firm today resisting the devil with all the force of Heaven. 
Fill me with You Holy Spirit and overwhelm me with Your manifested presence.  I am safe, sealed, secure, free and loved in You today and in this I rest completely abandoned in trust and hope found in You. 
Praise the name of Jesus forever more!  In His saving name I pray.
Amen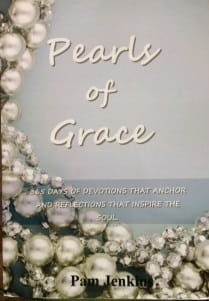 Pearls of Grace Devotional Book
Pearls of Grace is a book of devotions for the entire year, including a read through the Bible in a year calendar, broken down for every day. Beautifully written with encouraging words of hope and empowering words of joy and strength for every woman. Pam draws from the truth and richness of God's Word and gives real life examples in her down to earth style. A must have in your library, click here for more information.
For more from Pam Jenkins and Jabbok Ministries, please visit www.jabbokministries.com!
Listen to Pam Jenkins's daily broadcast on OnePlace.com.
For more from Pam Jenkins and Jabbok Ministries, please visit www.jabbokministries.com!
Listen to Pam Jenkins's daily broadcast on OnePlace.com.
Originally published Wednesday, 15 June 2022.