July 3
My Heart Your Throne
 "This people honors Me with their lips, But their heart is far away from Me."
"Make my feet swift and purposeful for Thee.  Fill my lips with Your truths and make my heart Thy throne."
This was the prayer of a small group of Chinese Christians who were about to watch their children be hung in order to get these believers to renounce their faith in Jesus Christ.  What resolve and what courage it took to pray these words even in the most difficult of circumstances.  It came from a people who had but one purpose: to live for Christ and Christ alone, no matter the cost.  A people who had made their heart into the very throne of God.  God ruled over their hearts because they had surrendered it to Him there.  It is a rare occurrence to hear a prayer of such selflessness and  abandonment. 
The average Christian's faith is easily shaken, quickly throwing them off course over the smallest of matters.  Some of the biggest crises facing most churches in America today are getting out by noon on Sunday mornings, feuding over where and how every penny of the offering is going to be spent, whether someone received a phone call from anyone when they missed church, if the offering should be taken up at the beginning or at the end of the service, if sister "so in so" is going to show up for her nursery duty today, and the really big one,  whether or not we sing out of a hymn book or we don't."  Can you hear or see the desire for "make my heart your throne, oh God" anywhere in any of these things?  And these, sad to say, are only a few of the petty things that are robbing God's people of spiritual blessings today. 
The only heart that prays a prayer like the one this small group of persecuted believers prayed is the one whose sole desire is to live for Jesus and be all that He wants them to be.  You see, to them it was not about themselves, it was not even about their children, it was only about Jesus.  He was their concern, He was their priority, and He was their everything.  The church wasn't their everything, their children weren't their everything, even their belief wasn't their everything, Jesus was.  When Jesus is in first place, everything else finds its proper place.  The only thing that matters today is, who is ruling over your heart, and whose throne is built upon its walls?  Ask God to make your heart His throne and then surrender your rights in the face of this request.  He is worshiped and honored when He is in the rightful place of power and authority. 
Set your holy scepter over my life and reign there all of my days.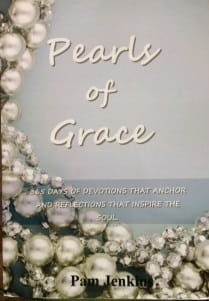 Pearls of Grace Devotional Book
Pearls of Grace is a book of devotions for the entire year, including a read through the Bible in a year calendar, broken down for every day. Beautifully written with encouraging words of hope and empowering words of joy and strength for every woman. Pam draws from the truth and richness of God's Word and gives real life examples in her down to earth style. A must have in your library, click here for more information.
For more from Pam Jenkins and Jabbok Ministries, please visit www.jabbokministries.com!
Listen to Pam Jenkins's daily broadcast on OnePlace.com.
For more from Pam Jenkins and Jabbok Ministries, please visit www.jabbokministries.com!
Listen to Pam Jenkins's daily broadcast on OnePlace.com.
Originally published Sunday, 03 July 2022.