July 29
Weak Weapons and Imprisoned Tongues 
"No weaponthat is formed against thee shall prosper; and every tongue that shall rise against thee in judgmentthou shalt condemn. This is the heritage of the servants of the LORD, and their righteousness is of me, saith the LORD."
Isaiah 54:17 (KJV)
When a loved one passes away its customary, at the proper time, to gather the loved ones together for the reading of the will.  Anticipation fills the room as each waits to hear what they will receive.  Some to great jubilation while others to sad disappointment.    Earthly inheritance will not be assured until it is given, if at all.  The assurance comes in the receiving, not in the promise because what originates from man is not trustworthy.  The apostle Paul said, "I put no confidence in the flesh".  Why?  Because the arm of the flesh will fail us and it will disappoint us if given enough time. 
But for the child of God there is a heritage that is sure.  It's a trustworthy heritage because its origin is from the Heavenly Father.  He gathers His tired, weary, lowly, broken, discouraged, disheartened, storm tossed and battle worn children together in His mighty presence and He Himself reads not "the will" but "His Will".   In those sacred words comes forth a promise of hope, a promise of praise, a promise for the future.  It's a promise that we receive at any moment we may need it.  It doesn't come in death but it comes in life.  It's a promise of protection from and victory over every enemy, every weapon, every tongue, every accusation, every thought, deed or destructive word. 
There is no weapon that any enemy, whether great or small, can form, fashion, create, scheme, devise, or carry out that will prosper.  None will be successful to destroy you.  There is no destructive word, no slanderous story, and no gossip that can condemn you before Him because you have been given the judgment seat over all those who have come against you.  You shall "condemn" every tongue that speaks forth against you!  You shall sit as judge, as authority over your enemies!  He has declared it so.  He can give this to His children, His servants, because it is His and His alone to give.  He holds all rights, all authority, all power, all protection, and He extends this to you His child.
Lift up your head daughter of the Almighty for your redemption draws near.  Fear not for He will never leave you nor forsake you.  Do not tremble at the roar of the enemy even though a host encamps round about you for he, she, they will not succeed.   You are forever sealed unto victory!  Your Father has commanded it so and it will be forevermore.  "This is the heritage of the servants of the Lord".
Nothing shall come near thy tent for the Father stands guard even through the midnight hour.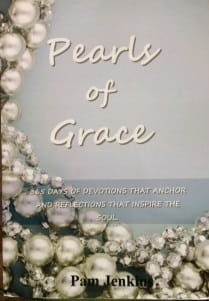 Pearls of Grace Devotional Book
Pearls of Grace is a book of devotions for the entire year, including a read through the Bible in a year calendar, broken down for every day. Beautifully written with encouraging words of hope and empowering words of joy and strength for every woman. Pam draws from the truth and richness of God's Word and gives real life examples in her down to earth style. A must have in your library, click here for more information.
For more from Pam Jenkins and Jabbok Ministries, please visit www.jabbokministries.com!
Listen to Pam Jenkins's daily broadcast on OnePlace.com.
For more from Pam Jenkins and Jabbok Ministries, please visit www.jabbokministries.com!
Listen to Pam Jenkins's daily broadcast on OnePlace.com.
Originally published Friday, 29 July 2022.