July 24
The Bigness of God
 "Thus says God the LORD, Who created the heavens and stretched them out, Who spread out the earth and its offspring, Who gives breath to the people on it And spirit to those who walk in it,"
God never does anything small.  When we catch even the slightest glimpse of God's creation, we are immediately confronted with the unlimited resources of the Creator.  When God sets a mountain in place He makes it so impregnable and majestic that no man can weigh it, move it, measure it or conquer it.  When He sets out to carve out a hollow to pour in the waters of the ocean, He makes it so deep that no one can plummet the depths of it.  And only God would design an array of spectacular flowers only to scatter them upon fields and mountain sides that no eye may ever glimpse but Him.  He put an expanse so vast in the heavens that the galaxies and stars get lost in the deepness of it.  God's ways are always a marvel because there is no limitation upon them and no one can explain them let alone contain the blessings that come forth from them.  What research or team of the most brilliant minds the world has ever known could ever give dimension to God's makings?  Not one! 
Couldn't you just shout when you think of God's endless supply of goodness and beauty?  Even in grace and mercy, God removed all the boundaries so it will never run dry and will be eternally immeasurable.  When God sets out to do a thing you can know it's going to be grand and unexplainable.  Yet, even in the might and strength of His workings, He takes the time and tenderness to lean down into the everyday moments in the life of His child.  His love is the grandest of all and yet He has declared and reserved it for us.  Explain that!  Who could ever be able to comprehend the depths and limitless being of our God?  I believe God wanted us to wonder in all that He is, yet have the ability of soul to be intimately acquainted with Him without having to explain Him.  This is truly one of the most glorious truths displayed for us in the realm of creation.  And He did it all for you and for me. 
What would you say of God to the next generation?  How would you describe Him to the world before you?   What will your children, grandchildren, family, friends, co-workers etc., learn of God from your faith?  What is your faith speaking forth today?  Whether you realize it or not, your faith will speak something of God.  The size of your faith will dictate the size of your God to your generation.  I pray it will be immeasurable just as His workings are to us.  Set your faith out to be large and boundless, unstoppable and unfailing. 
i will not make you small, God.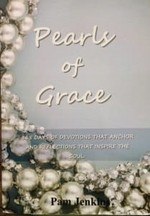 Pearls of Grace Devotional Book
Pearls of Grace is a book of devotions for the entire year, including a read through the Bible in a year calendar, broken down for every day. Beautifully written with encouraging words of hope and empowering words of joy and strength for every woman. Pam draws from the truth and richness of God's Word and gives real life examples in her down to earth style. A must have in your library, click here for more information.
For more from Pam Jenkins and Jabbok Ministries, please visit www.jabbokministries.com!
Listen to Pam Jenkins's daily broadcast on OnePlace.com.
For more from Pam Jenkins and Jabbok Ministries, please visit www.jabbokministries.com!
Listen to Pam Jenkins's daily broadcast on OnePlace.com.