July 21
When I Am Weary
 "For I satisfy the weary ones and refresh everyone who languishes."
God will give water to the one who thirsts and He will bring times of refreshing for every soul that languishes.  Lingering circumstances of difficulty can drain, not only our physical strength, but, our emotional and spiritual as well.   When we pass through seasons that challenge our faith, even the happy worker will encounter sadness and find their heart emptied of hope. It's a misconception that many new believers have that once we come to know the Lord as our Savior and surrender our life to Him, that everything from there on out will be smooth sailing.  Yet, God's Word paints a very different picture of us concerning life aftersalvation.  The disciples were beaten, martyred, shipwrecked, stoned, rejected, in cold and hunger, and even found themselves at times among false brethren and those who hated them. 
We have no control over our circumstances but, we do have provision to pass through them for whatever we need to come out the other side victorious.  The mystery to us should never be the circumstance we find ourselves in, but rather, the mystery should be to the world as they watch in amazement as we pass through the valley of pain and suffering with confidence of soul.  God tells us in Jeremiah 31:25, that He satisfies the one who is weary and refreshes the life that can't go on any longer.    Our focus should be on our source of life not the pain of life.  God is revealing to His children with wondrous clarity that He is not only able but, He is faithful to bring us through, to lift us up and restore hope, even to the heart that has abandoned itself to despair.   Heaven cries out to us when we are hurting; "this way through", not "this way out"!    By nature, our flesh looks for the exit sign instead of the entrance sign into the presence of the Lord.   
Listen to the Words of God found in I Thessalonians 5:21 & 24: "Prove all things; hold fast that which is good. Faithful is he thatcallethyou, who also will do it." (KJV).    Every difficulty is an opportunity afforded to us by Heaven to prove God's sufficiency to others.  It's a banner to the world that reads; "God is able and I am trusting in Him"!    God will use your trust and your faith as a wellspring for others to drink from, bringing them sustainment for the hour of need.   What does your life show to others when you are passing through the valleys? 
When I am weary, I will look to thee.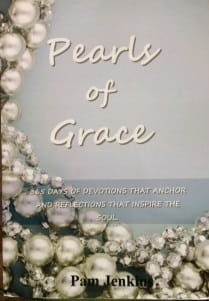 Pearls of Grace Devotional Book
Pearls of Grace is a book of devotions for the entire year, including a read through the Bible in a year calendar, broken down for every day. Beautifully written with encouraging words of hope and empowering words of joy and strength for every woman. Pam draws from the truth and richness of God's Word and gives real life examples in her down to earth style. A must have in your library, click here for more information.
For more from Pam Jenkins and Jabbok Ministries, please visit www.jabbokministries.com!
Listen to Pam Jenkins's daily broadcast on OnePlace.com.
For more from Pam Jenkins and Jabbok Ministries, please visit www.jabbokministries.com!
Listen to Pam Jenkins's daily broadcast on OnePlace.com.
Originally published Thursday, 21 July 2022.