January 8
I Am Because He Is
…I am God Almighty; Walk before Me, and be blameless."
God's pathway doesn't accept or make allowances for sin. He declares of Himself, "I Am God Almighty". He is not a weak God. He declares His strength for us because He knows our weaknesses. It's easy to excuse away transgressions when we throw our flesh under the bus of blame. But because we do not serve a weak God we cannot use our weaknesses as an excuse for our behaviors. He is greater than all of our weaknesses and He is stronger than any power we have been overcome by. It is possible to walk blameless before him because He is able to order every step we take. When we acknowledge Who He is then we can surrender to all that He is. Our walk will be determined by this surrender. Anything we hold on to that isn't pleasing to God then we will find ourselves letting go of the power of who God is. We cannot hold onto the things of the flesh apart from letting go of the things of God.
Blameless living is only found when we stop blaming something or someone for our lifestyle. Taking ownership of who we are will allow us to give ownership of who we are to God. We miss the high roads of living because we dig our heels so deeply into the low roads. We have a Heavenly Father who deals so radically, tenderly and powerfully with us that He will never surrender us to those things that will destroy us in the end. He created us to live holy and blameless because this is where true living is found. Whenever we try and seek to find life upon a different pathway we will only find our search is in vain and utterly disappointing. Who wants to live like this? We really only have two choices before us every day: To live or to die. These are the same choices that have been in place since the very beginning all the way back to Genesis. Live or die?
In every situation, every response demanded of us, each encounter with difficulty, through every valley or storm of life we still will only have two choices to make in the face of each; live or die? When I make the choice to live…to really live, the holy and blameless life He yearns for me to live then the only explanation to the world for my walk will be: I AM BECAUSE HE IS!
BECAUSE GOD IS…I CAN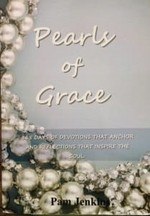 Pearls of Grace Devotional Book
Pearls of Grace is a book of devotions for the entire year, including a read through the Bible in a year calendar, broken down for every day. Beautifully written with encouraging words of hope and empowering words of joy and strength for every woman. Pam draws from the truth and richness of God's Word and gives real life examples in her down to earth style. A must have in your library, click here for more information.
For more from Pam Jenkins and Jabbok Ministries, please visit www.jabbokministries.com!
Listen to Pam Jenkins's daily broadcast on OnePlace.com.