January 5
Remembering What You Know To Be True About God
"And they remembered that God was their rock, and the Most High God their Redeemer."
They were coming from the surrounding villages, many walking a great distance, some sick and aged, poor and hungry, weighed down with many burdens thirsting for living waters. It was a gathering of the women to come together to receive the Word of God, to worship Him in one accord, pray together for one another's burdens and encourage one another in the Lord. There was a sense of God in the air and the stirring of His presence round about us as He filled the church we were meeting in. Amidst this gathering there was the most radiant glow emanating from an elderly woman who had come inside to join the worship service. She was tiny and very frail; her darkened skin like leather, hands worn from years of hard work, and the prominence of her cheekbones rested beneath the crown of her snowy white hair pulled neatly back in a bun. Her eyes were as bright as the noonday as she approached me head on, arms lifted in adoration for God. She grabbed my arms as she pulled me down to her level; she was all of four feet tall, until I was eye to eye with this precious saint. There, face to face and with a voice as a trumpet she opened her mouth in praise to the God of her salvation:
"Over thirty years ago God saved me. I was a Muslim for fifty years, but now I am a born again Christian. My husband tells me every day, "If you go to that church again, I will beat you when you get home." He sometimes beats me until I think I'm going to die, but when he is finished, I lift my hands to the heavens and say, nothing will keep me from worshiping Jehovah God; though He slay me, yet will I praise Him.
I felt unworthy to even be in her presence, let alone face-to-face. I knew I was standing on holy ground where God Himself had taken lodging. As tears streamed down my face and hers, I understood what she was saying; God was her rock and He was her Redeemer. She knew who her God was, and because she knew Him, she trusted Him no matter the pain, no matter the suffering. In difficulties, in pain and sorrow there is but one thing we need to do until it passes; remember who God is, and who He is to us. "He will keep thee in perfect peace, whose mind is stayed on Thee" (Isaiah 26:3) This is where endurance is discovered, where strength is given, the place where cost doesn't matter and pain and sorrow vanish into the darkness surrounding us. This is the inner chamber that the child of God can run to, the rock that is higher than us! And there in God, Who is our Rock, our Redeemer, He will hide us away in the cleft of who He is. In this cleft there is peace in the midst of every storm, strength for today and hope for tomorrow. Strife ceases, burdens are lifted and the soul is at rest. Every care fades away in the light of who He is. He is your Rock, your trusted Redeemer and you are at home in His presence.
Whether we are tucked away in a small village in the deep jungles of South America, struggling in poverty as this dear sister, or living in a big city in the lap of luxury, we will all know pain, we will all experience times of grief and walk the valley of despair. Many of us will pay a price for following God. God often shrouds the top of the mountain with the cloud of His presence so we will trust Him with every step of the climb. When these times come, beloved, we can do but one thing; remember Who God is! And with the courage of Job and our precious sister across the globe we can, with hands raised upward proclaim with the voice of a trumpet: "Though He slay me, yet I will praise Him!" (Job 13:15)
Keep My Mind Stayed Upon Thee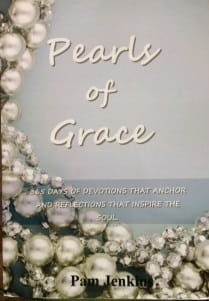 Pearls of Grace Devotional Book
Pearls of Grace is a book of devotions for the entire year, including a read through the Bible in a year calendar, broken down for every day. Beautifully written with encouraging words of hope and empowering words of joy and strength for every woman. Pam draws from the truth and richness of God's Word and gives real life examples in her down to earth style. A must have in your library, click here for more information.
For more from Pam Jenkins and Jabbok Ministries, please visit www.jabbokministries.com!
Listen to Pam Jenkins's daily broadcast on OnePlace.com.
Originally published Wednesday, 05 January 2022.