January 18
Driftwood Is Never Used For Building
"For this reason we must pay much closer attention to what we have heard, lest we drift away from it."
Driftwood is beautifully worn and weathered by the washing of water, sun, salt and other elements. The aging process of the driftwood is determined by the amount of time it is surrendered to forces beyond its control. The longer it is exposed to changing environments the more distressed it becomes giving it a look of its own. Many call it an art of nature and have taken the driftwood into the design studio to fashion home décor. The beauty is understood in knowing that what once could have destroyed the wood is really what transformed it into a coveted piece of art. What if the wood had never been found? What if it had been left to continue to drift along the currents of the world? It would have missed a higher purpose! Even though the drifting gave distinction to the wood, it would never have been transformed apart from the rescue. It took a rescuing to bring about a greater purpose and beauty.
But what if that driftwood had been rescued from the elements and then transformed into a work of beauty giving it a value of great worth? And what if this same piece of transformed driftwood decided to cast itself back into the elements of the world returning to its previous state of drifting and meaningless existence? What a waste that would be, right? Why would anyone take a work of art that had the hand of a skillful artist invested in it and throw it outside as if it had no value? It absolutely makes no sense! Yet, it happens every time we give ourselves over to those things that would destroy or rob us of the life God has given to us or that He wants us to have. This is the warning that the writer of Hebrews is giving in Chapter 2 verse one when he writes: "…we must pay closer attention to what we have heard, lest we drift away from it." What was the author wanting his readers to understand; don't return to driftwood living!
The word of God is what transforms the driftwood life into meaningful beauty. We must understand that the same power that it took to rescue us is the same power we continue to need every day of our lives. We continue to need it because our nature, at times, will contemplate returning to driftwood living. God's Word is our guard and stabilizing force that will keep us from casting ourselves back into empty living. It gives our lives direction, protection, provision, and distinction! And when the waters of the world entice us trying to sweep us back into its currents the Word will hold us steady until the temptation passes. It is a lamp unto our feet and a light for our path. It will keep us from losing our way in the sea of choices we are faced with.
Are you drifting along today in the currents of confusion and lifeless days? Then answer the call of God's Word and open up its holy pages giving it your heart's fullest attention. It will draw you out of those waters and give your life untold beauty and profound purpose all the days of your life.
THE BEAUTY OF THE DRIFTWOOD IS FOUND IN ITS RESCUE NEVER IN ITS DRIFTING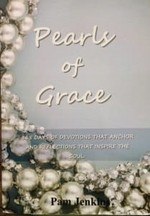 Pearls of Grace Devotional Book
Pearls of Grace is a book of devotions for the entire year, including a read through the Bible in a year calendar, broken down for every day. Beautifully written with encouraging words of hope and empowering words of joy and strength for every woman. Pam draws from the truth and richness of God's Word and gives real life examples in her down to earth style. A must have in your library, click here for more information.
For more from Pam Jenkins and Jabbok Ministries, please visit www.jabbokministries.com!
Listen to Pam Jenkins's daily broadcast on OnePlace.com.