January 17
Stillness
"Be still and know that I am God…"
Waving my hand frantically in the air, feet tucked under my bottom holding on to the classroom desk for dear life, yelling, "pick me, oh pick me." I felt as though I would burst trying to remain in my seat, so excited at the thought that I might get picked by my first grade teacher to come up and work the math problem on the board. Her name was Mrs. Hyde. She had retired from the military, and needless to say she ran her classroom as such. She carried her scepter, lovingly known as a yardstick, while proudly displaying her whistle draped about her neck, which she never hesitated to blow when necessary. She was as round as she was tall, her hair pulled back as tight as a rubber band and slicked down to match. Although very strict and staunch, she was an excellent teacher. Unfortunately she had very little patience with me beginning from the moment I bounced into her class on the first day. I bounced everywhere I went. I was a ruddy, freckled face, skinny little girl who surely would have been put on Ritalin, if it had been available to my mother. If I thought it, my mouth had to say it. On the back of every report card was a place for teacher comments. Mine were filled repeatedly, always with the same three words; "NO SELF CONTROL."
Every day I went home with a no-no note pinned on my shirt, written in the most perfected penmanship known to mankind, that read: "to the parents of Pamela Joy." I knew it was not good when Ms. Hyde called me by my first and middle name. I think it was to accentuate the middle name, "Joy" as a painful reminder that I was not! It wasn't until I was older that I learned if your teacher asks you to draw a circle on the chalkboard so you can stand on your tiptoes and put your nose in it, it was not to help one learn geometric shapes. Ms. Hyde had one purpose in these exercises, as she would kindly give me a mini lesson during each chalkboard exercise; "Pamela Joy, you will learn to be still and remain quiet for until you do, proper learning will not take place." This is probably why proper learning never took place with me because I was never still! Stillness is a learned ability! Give that some time to settle in to your thinking cap. As a child it was truly something I was incapable of doing.
One would think when you become a grownup it would be easier! Sad to say, I'm still trying to learn how to just be still and remain quiet so proper learning can take place with me and the Lord. The greatest learning takes place when the one being taught is still and the heart is quiet, drowning out all noise until only the Teacher is heard and seen. Ms. Hyde would be so proud if she were alive today! We miss God usually, not because He is not speaking, but because we are not still long enough to hear Him. Stillness brings focus and wisdom is acquired in quietness.
Be still and know Him.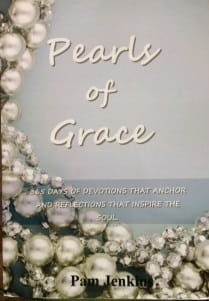 Pearls of Grace Devotional Book
Pearls of Grace is a book of devotions for the entire year, including a read through the Bible in a year calendar, broken down for every day. Beautifully written with encouraging words of hope and empowering words of joy and strength for every woman. Pam draws from the truth and richness of God's Word and gives real life examples in her down to earth style. A must have in your library, click here for more information.
For more from Pam Jenkins and Jabbok Ministries, please visit www.jabbokministries.com!
Listen to Pam Jenkins's daily broadcast on OnePlace.com.
Originally published Monday, 17 January 2022.