February 4
The Need For Him
"He is also head of the body, the church; and He is the beginning, the firstborn from the dead, so that He Himself will come to have first place in everything."
Every heart is searching for peace…for hope…for meaning and purpose and even for an understanding of those things that were never meant to be explained. There is a longing instilled in every soul to know truth, to know the living God; to encounter Him, experience the realness of His presence; to breath Him into the deepness of our being. By His design we were created with the wonder of Him, the need for Him, and a desire to see Him just as He is. We were designed to bring His heart delight and to glorify Him in all things. More than any other, the overwhelming need of every life is to know and to be known by the Creator and in the knowing find purpose for living. As the cry for truth ascends unto the hills of God, He swings open the corridors of Heaven beckoning the sound of His creation to enter in. He searches the depths of every cry, the stir of every heart and with a love that has never wavered, never hesitated to act, and never disappointed; He stands and with a voice of thunder echoes His answer throughout the universe…Jesus…Jesus…I give you Jesus!
He is Heaven's answer to every need, to your need and mine. There is no other answer the Father will give to His children but this one because Jesus is the One that can save, deliver, redeem, restore, sanctify, heal, empower, forgive, cleanse, and raise us from the dead. He is God's answer for you and for me. He is the answer for the world, our times, our children, grandchildren, our generation and the ones to come. His name will be above every other name that has ever been or will ever be. He is the Bright and Morning Star of David, He is the Lamb of glory, the everlasting One, the lion of Judah, the Redeemer of the world, the bread of Heaven, the Light of the world, the Holy One of Heaven, the lily of every valley, the sweet rose of Sharron, Messiah, Yeshua, Adoni, Savior, Immanuel, King of all Kings, God's only Son and He is the ONLY BEGOTTEN!
What we believe about Him will determine our hope in this life. Without Jesus there is no hope, no future, no purpose or joy. God put Him above all, first place in all things and before everything else. He is to have first place in all things, your life and in mine. Jesus will never accept second place because He was given first place by His Father. Having this place of honor is what pleases the Father and this is what drives the heart of Jesus; to please God in all things. If Jesus is first then God is satisfied.
What place does Jesus have in your life? How have you given Him first place or have you? We will never be pleasing before God until Jesus is absolute center and undoubtedly first. First place was created for only Jesus to occupy. God gave you all of Himself when He gave you Jesus. He has withheld nothing good from us because He is driven by love for His children. He longs to embrace us, hold us, grow us, and fashion us into the woman He desires for us to be. And we cannot become that woman apart from Jesus and apart from Him occupying first place.
CROWN JESUS WITH THE REIGN OF YOUR HEART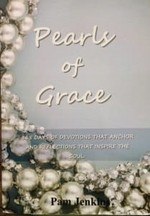 Pearls of Grace Devotional Book
Pearls of Grace is a book of devotions for the entire year, including a read through the Bible in a year calendar, broken down for every day. Beautifully written with encouraging words of hope and empowering words of joy and strength for every woman. Pam draws from the truth and richness of God's Word and gives real life examples in her down to earth style. A must have in your library, click here for more information.
For more from Pam Jenkins and Jabbok Ministries, please visit www.jabbokministries.com!
Listen to Pam Jenkins's daily broadcast on OnePlace.com.