February 3
Precious Memories
"The memory of the just is blessed"
Precious memories, how they linger long after the moment is gone. Today is my youngest daughter's birthday, my baby girl; my sweet Krissy. She is twenty-one today, at the writing of this devotion. Although she is not little any more, through my mind's eye I can still see her toddling across the floor, beautiful auburn curls outlining her tiny beautiful face; precious remembrances as if they were yesterday, tucked away in my heart to savor for years to come. I've locked away as many of these treasures as my heart can hold of my girls because they are priceless to this mama's heart. Like a lingering fragrance, Krissy's life has been imparting sweet memories into the lives of others. Both of my daughters have left and continue to leave their mark upon my life in immeasurable ways. Every time I take a walk down memory lane, I find a fountain of their life from which my soul can drink from. These life giving waters have brought refreshment to my soul that time cannot rob me of.
There's the time her big sister, Stephanie, had learned to write the letter S so, to display her accomplishment she wrote it on the closet wall in her room. When asked about it she said, "krily bug did it", referring to her little sister, Krissy, who was only 1 at the time! There's bath time, potty training moments where great applause was given at every triumph followed by "the dance". There's running through the sprinkler in the front yard on a hot summer day, or all the times that the kitty had to go in the baby stroller or be the guest of honor at an afternoon tea party. There's all the night time rituals such as kneeling at the side of the bed and talking to God together. All the bedtime stories and rhyming games that made us laugh so hard. And can we ever forget, "creepy spider" or the "arctic blast" that was an absolute must at bath time especially in the summer or the magic of an empty clothes basket as it transformed into a wild roller coaster ride before our eyes.
How can I forget the sound of those clickers on the big wheels rolling down the drive way, training wheel goodbyes, pet funerals, birthday parties, the first ride on the big yellow bus to the first drive with their license, nature walks or hiding in the bushes waiting patiently for just a peak at the beaver we fell in love with at our favorite park. Those memorable first dates to the heart breaking college move in days, letting go of a first love or fainting at ear piercings. Or my absolute favorites, most cherished moments, the times when we just talked, in the bed, in the car, over lunch, while we were shopping, or on the phone; lingering memories that a mother's heart will cherish until her last breath.
Memories are a gift from God and He promises to make them a well of joy we can draw upon. This is His gift to you, beloved daughter. Sweet memories are His gift to the chambers of your heart, His fingerprints upon your heart as evidence that He has been there every step of the way, through the bad and the good. When I remember the many times when I've failed at being the woman or mother He has wanted me to be I am blessed by His patience. When I remember the times when I stumbled in my faith and I am astounded by His grace. When I revisit the valleys that I have made passage through, I'm aware of His comfort and when I look back at the hurts I've experienced at the hands of others or at my own doing, I am amazed once again at His strength to heal my deepest wounds; precious memories that God has allowed me to hide away as my very own.
No matter the memory, precious one; they will bless the just. It's His promise to us allowing us to say with King David; "surely the mercy and the goodness of the Lord have followed me all the days of my life". What are your memories? Savor them beloved friend as the priceless treasures they are.
I will remember Thee in the night watches and marvel at your blessings.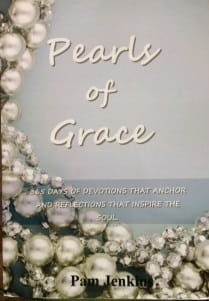 Pearls of Grace Devotional Book
Pearls of Grace is a book of devotions for the entire year, including a read through the Bible in a year calendar, broken down for every day. Beautifully written with encouraging words of hope and empowering words of joy and strength for every woman. Pam draws from the truth and richness of God's Word and gives real life examples in her down to earth style. A must have in your library, click here for more information.
For more from Pam Jenkins and Jabbok Ministries, please visit www.jabbokministries.com!
Listen to Pam Jenkins's daily broadcast on OnePlace.com.
Originally published Thursday, 03 February 2022.