February 28
Wonderful Love
"Thy love to me was more wonderful!"
II Samuel 1:26
Would we dare to allow our hearts to hope for such words to be spoken to us in glory…the moment we step from this world into the land of eternal peace and beauty untold…the shores where grief will no longer roll upon for sorrows have been washed away forever more…the streets where no darkness will ever enter for the Lamb of Glory is its light…the home of every child of God who will forever be with the Lord! To hear resounding from God's holy hill; "Thy love to me was more wonderful"! Can I love Him like that? Could I attain such a love for Him that those words are assured for me? It would make every trial we've experienced so trivial, every loss uncounted, and every laborious act, every blood drop spilled and every tear shed seem so insignificant in comparison.
Jesus' words to Peter in John 21:15, before His ascension into Heaven? "do you love me more than these"? Loving the Lord in a way that would be pleasing to Him means having nothing that compares to Him…having nothing that could hold a candle to Who He is to you. Loving Jesus is the purest form of love that we could have upon the earth, for it is a love that leaves no room for self and gives no one the place that He holds in our heart and affections. It pleases Him when we lavish our love upon Him and seek to please Him in every respect. He's given us a pattern for loving Him in the way that He has loved us. We love because He first loved us. Read a familiar verse of song written about the love of God:
Could we with ink the ocean fill,
Were every blade of grass a quill
Were the world of parchment made,
And every man a scribe by trade,
To write the love of God above
Would drain the ocean dry;
Nor would the scroll contain the whole,
Though stretched from sky to sky.
What you may not know about this verse is that it was first published in 1917 by Frederick M. Lehman who discovered it written on the wall of an insane asylum. The Jewish people often use this verse during their celebration of Shavuot, a celebration of remembrance when God gave the Ten Commandments and other instructions for living to Moses up on Mt. Sinai. This was a time when God became personal to them, distinguishing them from all other people groups upon the face of the earth. God's love for us, is much the same; it sets us apart from everyone else in the world. So should our love for Him! He should be separated, honored, distinguished, and exalted above all else just by the love we give to Him. And on that day, when we come to the end of our earthly journey, we will hear Him say to us, "Your love to me was more wonderful". I can think of no better words to hear precious traveler than these. How Would He believe it to be wonderful? Is He pleased at the way you love Him with your life?
I want my life to be a love song to Thee, and may I sing it loudly.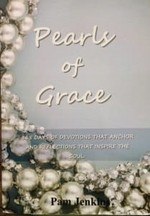 Pearls of Grace Devotional Book
Pearls of Grace is a book of devotions for the entire year, including a read through the Bible in a year calendar, broken down for every day. Beautifully written with encouraging words of hope and empowering words of joy and strength for every woman. Pam draws from the truth and richness of God's Word and gives real life examples in her down to earth style. A must have in your library, click here for more information.
For more from Pam Jenkins and Jabbok Ministries, please visit www.jabbokministries.com!
Listen to Pam Jenkins's daily broadcast on OnePlace.com.