February 25
A Woman of Integrity
"Let your yes be yes, and your no be no…"
I learned at a very young age that when you give your word you should do everything within your power to keep it. My papa taught me this growing up as he never made a vow that he did not keep. He believed that his testimony of integrity was on the line and more importantly that he represented God in everything he did and said. When we did not keep our word we are no more than a liar in my Papa's book. Strong belief but it was the character of his generation, one that is all but non-existent today. God never intended for us to be capricious people. The world is full of vacillation and unpredictability largely due to a lack of integrity. The Lord laid it out clearly for us when He spoke these very clear and relevant words for us today; "let your yes be yes and your no be no".
Integrity is the root of loyalty and God desires that we are both. When we commit to something then we need to follow through with it. And when we stand on a no then we should brace ourselves not to be moved unless God reveals to us that our no was wrong to begin with. High levels of frustration plague the Church today because its members are not dependable. When people commit to something it seems to not mean anything as it did say 40 or 50 years ago. Even our children recognize this trait in that, often times when a parent has said no to something, they will "wear them down" until they relent and say yes. Not only should our yes be yes but, our no should be no! Something all of us parents should do well to take note of; according to Jesus. This would save a lot of emotional stress in many families today.
Sadly, integrity is something we've come to expect less and less of as our generation changes. The mentality of "freedom" and "do whatever makes you happy" especially if something better comes along, is the rising standard of the world. When integrity is absent beloved, loyalty is as well. It's absolutely vital that we follow the Lord in all things and integrity is one that is often overlooked or undervalued. If we give our word, our commitment; be it to a Bible study, serving, prayer meeting, teaching for someone, fall festival volunteer, supporting missions, a dinner date with a friend, or committing to anything big or small we should follow through with it. Changing our minds is not an option with the Lord! Giving your word will always put your testimony and the Lord's name on the line.
My word I will keep, to bring glory to Your Name Father.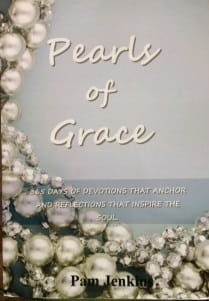 Pearls of Grace Devotional Book
Pearls of Grace is a book of devotions for the entire year, including a read through the Bible in a year calendar, broken down for every day. Beautifully written with encouraging words of hope and empowering words of joy and strength for every woman. Pam draws from the truth and richness of God's Word and gives real life examples in her down to earth style. A must have in your library, click here for more information.
For more from Pam Jenkins and Jabbok Ministries, please visit www.jabbokministries.com!
Listen to Pam Jenkins's daily broadcast on OnePlace.com.
Originally published Friday, 25 February 2022.