February 23
When The Furnace of Affliction is God's Will
"If it be so, our God whom we serve is able to deliver us from the furnace of blazing fire; and He will deliver us out of your hand, O King. But even if He does not, let it be known to you, O king, that we are not going to serve your gods or worship the golden image that you have set up."
How troublesome it can be to the soul when we have chosen the righteous path only to have it lead to unanswered prayer. I've known many godly men and women who have prayed and prayed only to have their prayers go unanswered. I've had times in my own life when the heavens were as brass and my prayers seemed to not even reach the ceiling, let alone the throne of God. Unanswered prayer can be spiritually frustrating and it can debilitate our faith and shipwreck our servant attitude. After all, shouldn't God heed to the prayers of the righteous by giving them what they ask? Isn't it just a matter of having enough faith when wanting your prayers answered? Faith is often mistaken for want.
There are many examples in the Bible that are contrary to this teaching; Jesus in the Garden of Gethsemane; "Father let this cup pass from me", the apostle Paul beseeching the Lord to remove his physical ailment, Jeremiah the weeping prophet for souls, Job who lost everything and being afflicted physically from head to toe, Moses who was not allowed to see the promised land, and what about John the Baptist who lost his head because of a lying woman? Faith, is not a means to get what we desire even when the intentions are good. True faith is quite the opposite, as seen here in the lives of Daniel and the others; it believes in God even when you don't get what you ask for! True faith is believing God can even when He doesn't; it's believing that He is good when things are bad; believing His way is right even when it's hard, and it's believing He is the great physician even when He inflicts –It's loving the giver without the gift; and unanswered prayer is a way that God tests our love for Him and allows us to know Him more intimately and His ways more perfectly.
These three men had been taken into captivity by the Babylonians where they were made slaves in a foreign land and taken away from their beloved homeland, away from the love and support of family and friends. Now, because they stood for God, by refusing to bow down before pagan gods and worship them, they were going to be thrown into a fiery furnace where no man could survive. The words in Daniel are very sobering when read with the heart. These men never once doubted that God could deliver them. They had absolute confidence in the power of their God believing with full resolution that He is able.
Meshach and Shadrach and Abednego simply bowed the knee in full surrender to the will of God. In order to bow the knee to His will, we must first recognize that there is a will that is higher than ours. Above all things, every situation, every trial, every disease, every tragedy, and in every suffering there stands the will of the Almighty that proclaims: He not only has the right to rule but His rule is always right.
If you have a prayer that is unanswered, then bow the knee to the will of the One Who has heard your prayers but has a greater plan than you could ever imagine. Unanswered prayers are God's opportunities to teach us to be still and just know that He is God. Don't strive over unanswered prayers. Know that God is on the throne and He is working all things out for His good and for His glory for those who love Him and are called according to His purpose. Press on, stand firm in your faith, unwavering in your God.
Teach me to say yes to you even when you say no to me.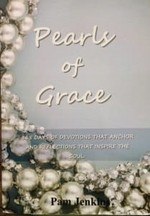 Pearls of Grace Devotional Book
Pearls of Grace is a book of devotions for the entire year, including a read through the Bible in a year calendar, broken down for every day. Beautifully written with encouraging words of hope and empowering words of joy and strength for every woman. Pam draws from the truth and richness of God's Word and gives real life examples in her down to earth style. A must have in your library, click here for more information.
For more from Pam Jenkins and Jabbok Ministries, please visit www.jabbokministries.com!
Listen to Pam Jenkins's daily broadcast on OnePlace.com.