February 19
Truth is Not a Ship
"…I will walk in Thy truth."
In December 1931, Winston Churchill was struck by a car as he crossed Fifth Avenue in New York City. Two years later in the same month in 1933, there was an assassination attempt on President Franklin Roosevelt but the bullet missed him and struck and killed the man standing beside him. Why did these men survive? Why was the one man struck and not the president? Both of these men were put into leadership by the hands of a Sovereign God and were used by Him to defeat Adolph Hitler. God's tragedy in the life of one man, rescued the lives of countless others. God overrules every calamity ensuring His plans are carried out according to the very heart of His perfect will. And, His will is perfect lacking nothing.
This is the dilemma our soul will find itself in when we fail to believe that God's will is perfect. We need to know the whys, and have understanding this side of Heaven don't we? But if we believe God's will is perfect then the war of the soul ceases and victory of peace is heard rising from the battlefield of life. But, truth is not a ship that is tossed about with every stormy gale or redirected by the winds of time and change. Truth is anchored in the harbor of God, who is immoveable!
I read about an experience a well known pastor had when he traveled to England to preach at a church there. He was an author and somewhat of a famous preacher so the congregation was very excited he was coming and because so, they went to great lengths to plan every detail of the services with great care. On the first night of his visit, as the congregation began singing the hymns that had been picked out for the night's service the words were printed out for all to see as they sang. The song was "Our God Reigns". When the pastor looked down at the words he realized that the congregation was singing, "Our God Resigns"! One small slip in the typing and the complete meaning was changed! Belting out without restraint were the words, "OUR GOD RESIGNS"!
One small slip of what should be in place can throw everything off course! It's the same with our walk of faith in Christ. It's very easy to set our eyes upon the circumstances and have our faith rewriting what we believe to be true about God! One slip of truth and we can fall head first into the notion that God surely is off the throne or doesn't care or that He has resigned from being our God all together.
But the truth of God's Word rings loud and clear, He is still on the throne and there He has always been and will forever be no matter what our eyes view below. Although we cannot know what all is included in God's plan, we can know that He will, in the end, do good to His children. We have a Heavenly Father who takes no rest until good reigns. Truth is not a ship precious friend!.
Guard truth and it will guard you.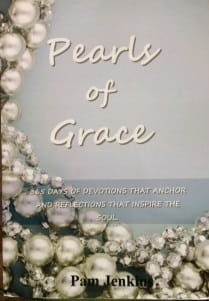 Pearls of Grace Devotional Book
Pearls of Grace is a book of devotions for the entire year, including a read through the Bible in a year calendar, broken down for every day. Beautifully written with encouraging words of hope and empowering words of joy and strength for every woman. Pam draws from the truth and richness of God's Word and gives real life examples in her down to earth style. A must have in your library, click here for more information.
For more from Pam Jenkins and Jabbok Ministries, please visit www.jabbokministries.com!
Listen to Pam Jenkins's daily broadcast on OnePlace.com.
Originally published Saturday, 19 February 2022.