February 18
Trust is His Signature across the Pages of My Life
"Be gracious to me, O God, be gracious to me, for my soul takes refuge in Thee; and in the shadow of thy wings I will take refuge, until destruction passes by. I will cry to God Most High, to God Who accomplishes all things for me."
Psalm 57:1-2
He Maketh No Mistake
My Father's way may twist and turn, my heart may throb and ache, But in my soul I'm glad I know He maketh no mistake. My Cherished plans may go astray, my hopes may fade away, But still I'll trust my Lord to lead, for He doth know the way. Though night be dark and it may seem that day will never break, I'll pin my faith, my all in Him, He maketh no mistake. There's so much now I cannot see, my eyesight's far too dim; But come what may, I'll surely trust and leave it all to Him. For by and by the mist will lift and plain it all He'll make; Through all the way, though dark to me, He made not one mistake.
-A.M. Overton
The holy scepter of God exhausts the expanse of the universe having no space outside of its control. The elements of the universe bend beneath its banner of righteous authority declaring the will of the Sovereign One seated high above us. He is the great king of the ages turning the tides of history according to the desires of His heart. His throne is established forever more and upon the pillar of His providence our trust may safely lean. He is the government of the universe. Nothing disturbs or confuses Him and He is never caught off guard. He is never at a loss and He is never unaware at the happenings on the earth or in the Heavens. You will never surprise God, and you will never find Him without a plan or find Him absent from time.
To know God as supreme ruler not only in the universe but in our own life brings peace to the heart no matter what our situations are. His authority is not separated or isolated to a universal sovereignty but it is to be acknowledged and honored in every detail of your life. This is an easier task when times are good, easy and according to our heart's desire. But when our world comes crashing down around us, believing that God is ruling becomes more challenging. How do we reconcile the truth that God is Sovereign when tragedy befalls our life? How do we wrap our faith around catastrophic events if God is in control?
When we are hurt, suffer loss, sickness, financial strains, experience betrayal, become a victim even when we are giving to others, how are we to reconcile the pain with the truth that God is in control? How does our heart accept that God is control when we lose something so dear to us and still believe He loves us? It narrows down to one lone truth and one alone: Do we trust Him without boundaries?
At the end of every day, no matter what has taken place within it, we can surrender our soul into the hands of the Most High God knowing that even though we may not understand, we can still choose to trust Him. God is safer than any known way or depth of understanding.
SURRENDER THE NEED TO UNDERSTAND AND PEACE WILL FOLLOW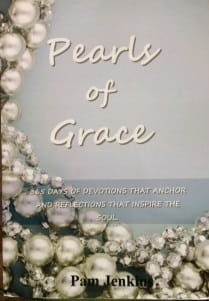 Pearls of Grace Devotional Book
Pearls of Grace is a book of devotions for the entire year, including a read through the Bible in a year calendar, broken down for every day. Beautifully written with encouraging words of hope and empowering words of joy and strength for every woman. Pam draws from the truth and richness of God's Word and gives real life examples in her down to earth style. A must have in your library, click here for more information.
For more from Pam Jenkins and Jabbok Ministries, please visit www.jabbokministries.com!
Listen to Pam Jenkins's daily broadcast on OnePlace.com.
Originally published Friday, 18 February 2022.