February 15
Surrendering Our Tomorrows
"…Behold, your maid is in your power; do to her what is good in your sight."
These words in Genesis were spoken by Abraham to His wife Sara giving her full power to do whatever she wanted to with Hagar, the handmaiden. Abraham was given Hagar by his wife Sara to take her into his bed as his wife that he might have a child. Abraham was the husband of Hagar as well as Sara at this point. What strikes at the heart cords in this story is the importance of the role of the PROTECTOR, the role of the head of the household and the God-given responsibility to govern in a way that is honoring to God. The breakdown of this role in the family unit can be and usually is catastrophic. Hagar was never given a choice in the matter that we are told of. She was given to her master by her mistress to become his wife in order to bear him a son. She was only a means for someone else to get what they wanted. The one who should have protected her not only refused to do so but he gave her over into the hand of her enemy, Sara, to do with as she pleased.
My heart can't help but go out to Hagar. Hers was a hurt on the deepest level. To have someone that we have trusted in, someone we look to for protection, someone we have done only what they have asked of us and nothing less, turn us over to be abused by another, is life-shattering. It's those closest to us can wound us the deepest. Can you identify with Hagar? Have you ever trusted in someone else only to be betrayed? Have you ever been wounded by someone who should have been your protector? Have you ever been delivered into the hands of others for mistreatment by the very hands of one who you depended on for safety? Have you ever been fed to the wolves by the Shepherd?
It's been said that "Grief has an eloquent voice when mercy is the listener and woe has a plea which goodness cannot resist". Hagar had an overwhelming situation so much so that it caused her to run away in fear and desperation. There beside the waters of her bitterness, mercy was listening to her cry. Why do you think the Angel of the LORD asked her these two questions? Does it seem a little odd to you that her name and to whom she belonged was already known yet she was asked about where she came from and where she was going? Hagar was hurting because of the pain caused by others. She is the victim, the abused in this story. She was used, she had no rights and in her eyes, she had no future. She did the only thing she knew to do, an act of desperation to escape the pain of her overwhelming circumstance: Run away.
We were not created to withstand the thought of having no future because God created us to be eternal; to have a future and a hope. So, when our situations become thieves of this design, our heart cannot withstand it because it wasn't designed to. This is why we run…to the arms of another…to drugs., alcohol, isolation, depression, work, depression, obsession and temporary pleasures that we find our heart allured to. They are all avenues of escape from a hopeless future. God doesn't intend for us to be Hagar's! Hagar's hopelessness in her eyes brought her face to face with a God who heard her cry…a God who saw her as she was. He is a personal God who is concerned with the troubles of our heart and the pain and suffering that assails our lives. He is involved on every level with our being and scrutinizes the deepest level of our hearts until all is laid open and bear before Him. Nothing about us is hidden from His holy vision. He knows our past and He also knows our future.
GOD SEES TOMORROW MORE CLEARLY THAN WE SEE TODAY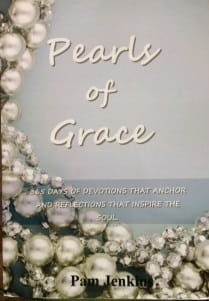 Pearls of Grace Devotional Book
Pearls of Grace is a book of devotions for the entire year, including a read through the Bible in a year calendar, broken down for every day. Beautifully written with encouraging words of hope and empowering words of joy and strength for every woman. Pam draws from the truth and richness of God's Word and gives real-life examples in her down to earth style. A must-have in your library, click here for more information.
For more from Pam Jenkins and Jabbok Ministries, please visit www.jabbokministries.com!
Listen to Pam Jenkins's daily broadcast on OnePlace.com.
Originally published Tuesday, 15 February 2022.