February 14
Everywhere I am, He Is
"Then Jonah prayed to the LORD his God from the stomach of the fish, and he said, "I called out of my distress to the LORD, And He answered me. I cried for help from the depth of Sheol; Thou didst hear my voice."
God is not confined to one place, but rather He is everywhere. Jonah, the prophet to Nineveh, when trying to flee to a place where God could not find him came to know that even from the belly of a whale, God sees us. Listen to his cry; Jonah came to understand in a most personal way that wherever we find ourselves we can say with absolute certainty, God is here! We do not simply live before His eyes or even near Him; in Him, we move, breath and have our being. You cannot define space and time and not have God. Upon every space of God's earth where I set the sole of my foot, there is God. God is too mighty, too immense, too magnificent to be contained or confined to one place. He is everywhere. We cannot go anywhere that God will not already have filled with all of Himself and all that He is. His knowledge and wisdom are indefinable because there are no words that can contain the whole of Who He is. I came across a small portion of a poem that I want to share with you; the author is unknown to me but I applaud Elohim for the gift of words given. It beautifully describes what my feeble attempts fail to do.
"Within your circling power I stand;
On every side I find your hand: 
Awake, asleep, at home, abroad,
I am surrounded still with God."
Even in the unfathomable caverns of the Ocean floor, upon the heights of the horizon, beyond the farthest galaxy even yet unexplored or seen by the eye of man, or if I take the wings of the morning and fly beyond the most distant star… God is there. When the sun seems to have sunken into the abyss and the chords of eternal darkness wrap itself around our life…God is there. Even if I find myself in the barren places…You, O God, are there. I cannot be where God is not. Hear it again precious daughter of God…I cannot be where God is not. If You, God, are everywhere then stands this truth…YOU, GOD, SEE ME. He is not a slumbering God. He is not dead, He doesn't need time to think or prepare and He is never too busy for His child. And when we offer up a praise to Him for Who He is then something internal begins to happen within us. Our soul begins to respond to Who God is rather than our surroundings our situations.
What soul can resist the passion rising up into sacrificial praise unto the all-knowing, all-seeing God? The garment of the soul woven by the hands of God is praise unto Him. If only we could look through the eyes of a Holy God and see ourselves through the veil of His nature, our life would erupt with adoration in every area. He sustains our tender frame and we are never beyond His reach.
I am in Thy view.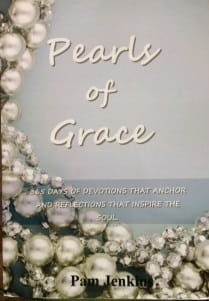 Pearls of Grace Devotional Book
Pearls of Grace is a book of devotions for the entire year, including a read through the Bible in a year calendar, broken down for every day. Beautifully written with encouraging words of hope and empowering words of joy and strength for every woman. Pam draws from the truth and richness of God's Word and gives real-life examples in her down to earth style. A must-have in your library, click here for more information.
For more from Pam Jenkins and Jabbok Ministries, please visit www.jabbokministries.com!
Listen to Pam Jenkins's daily broadcast on OnePlace.com.
Originally published Monday, 14 February 2022.