February 10
The Need To Be Righteous
"In his days Judah shall be saved, and Israel shall dwell safely: and this is His name whereby He shall be called, THE LORD OUR RIGHTEOUSNESS."
The name for God meaning, "The Lord our Righteousness" is Jehovah Tsidkenu. The birth of the great reformation was greatly influenced and driven by the passion and influence of Martin Luther. His zealousness for the cause sorely shook all of Rome and the protestant church was born. He broke free from the bondage of Self Righteousness, which no man can accomplish, by coming to a true knowledge of who Jehovah Tsidkenu was. So powerful was this truth that it became the very foundation upon which the Reformation was built and Jehovah Tsidkenu became their watchword. If you were a true reformer you would know this watchword if asked. Someday life, along with all its sorrow, pain, confusion, toiling, loneliness, striving, losses and fear and struggles will fade in the presence of the beauty of Jehovah Tsidkenu. We will come to know in that moment, lost in the brilliance of all that He is, the depth of what He has done for us. We will find ourselves adorned in royal garments, not woven by human hands. Even now, our soul longs to be united with Him, to see His face just as He is. He's the one we've been waiting for, anticipating and preparing to meet.
Robert Murray McCheyne died just before his thirtieth birthday but the few years he had upon this earth has left an everlasting impression of God upon our lives. The following words pour forth from a young heart that caught a glimpse of the coming of the Lord, Jehovah Tsidkenu.
When I stand before the throne,
Dressed in beauty not my own,
When I see Thee as Thou art,
Love Thee with un-sinning heart.
Then Lord, shall I fully know—
Not till then—how much I owe.
The immeasurableness of our debt of love owed to the Lord will not be fathomed until we stand before holiness Himself. When we see our self in the reflection of His beauty enthroned above we will, only then, understand our total depravity. We owe Him our total allegiance, our entire praise, our limitless love and enduring worship because He is all in all. It will not be about us in that day…only Him. The spot light will shine radiantly upon His work, not ours. It will be all Him and nothing we have done or even tried to do in our own feeble abilities will stand in the mount of His power and might. Everything upon this earth, in our lives, passing through our hands, crossing our paths…absolutely everything will all showcase His splendor.
In Him we are all that we need to be, we are pleasing to God and we have everything to do the work the Father desires for us to do. It's not about man's strength but about His finished work at Calvary. It's already been accomplished for us and there is nothing more for Him to do for us that He has not already done. We lack for no good thing, no necessary thing, no unfinished work needed for our acceptance before God. We stand complete, able, redeemed, forgiven, holy and wholly righteous in His eyes. What a wonder we will be to the Heavenly Host in that day who declares…"It's all because of Jesus …they have overcome by the blood of the Lamb". Overcome every fear, every weakness, every sin, every frailty, every shame, every struggle, every disappointment and every single thing that stood against them for the glory of eternity. His name is Jehovah Tsidkenu and in that final day when we enter into Heaven's Territory we will do so solely upon His redeeming work at Calvary. There will be no righteousness of our own that will come through the fire, only His which has already been tried and tested.
His righteousness will be my radiant adornment.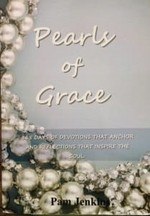 Pearls of Grace Devotional Book
Pearls of Grace is a book of devotions for the entire year, including a read through the Bible in a year calendar, broken down for every day. Beautifully written with encouraging words of hope and empowering words of joy and strength for every woman. Pam draws from the truth and richness of God's Word and gives real life examples in her down to earth style. A must have in your library, click here for more information.
For more from Pam Jenkins and Jabbok Ministries, please visit www.jabbokministries.com!
Listen to Pam Jenkins's daily broadcast on OnePlace.com.