December 9
Circle of Death
"…your adversary, the devil, prowls about like a roaring lion, seeking someone to devour."
I Peter 5:8
One of the greatest strategies of war is the ability to study the enemy. The greater the knowledge of the enemy, the greater the advantage to victory. God doesn't leave us guessing as to the power, intent, and tactics of our enemy. God's Word likens the devil, the enemy of every child of God, to a lion. Not just any lion, but a roaring lion that is on the hunt for destruction. Lion's normally only roar at night and they do this to advertise their presence to the prey. They wait for the sun to go down only to encircle the prey in order to create confusion and fear. In times of darkness our enemy is enlarged. The roar is meant not only to intimidate, but to roar in such a way that the prey runs straight into the jaws of the hunter who is waiting in the shadows. Lions seek to capture their prey in flight.
Lion's stalk their prey out of necessity. They are known for their quickness and power, but they are not known for their stamina. The lion's heart is small so they can only make short bursts during an attack. Therefore, they must stalk their prey in order to get close to it, waiting for an opportune time to strike. Satan's roar will always be intentional. The roar may be words of shame: "you'll never be worth anything because of your past." It may be words of temptation: "your spouse will never know, besides they've not been paying you enough attention ", or words of anger: "you don't deserve this, who do they think they are?" It might be the call of drugs or alcohol for one more season of pleasure, or the call of pornography. It could be the cry of self-pity reminding you of the hurt and pain others have caused you. Sometimes the roar may be a whisper in your ear that tells you: "look at them, you aren't nearly that pretty, that good looking, they are so much more the person you will ever be." The lion's roar could be the call to suicide: "your situation is hopeless, there's no use in living." His words will always be lies, and they will always bring destruction.
The roar of our enemy will always target our weak areas because we are often an easy prey to our weaknesses. The enemy is never silent, beloved, because he wants you listening to the voice of the one who will always speak lies in order to drown out the truth. He gives no rest to the children of God. He is always seeking because he is restless knowing his time to destroy is short. His intent is to destroy completely, utterly, leaving nothing of life in his path. So what are we to do? First, we are to understand the power and intent of our enemy, and never underestimate him. Second, we must know that it is only through death that the lion is rendered powerless. Hebrews 2:14 tells us, "…that through death, He might render powerless him who had the power of death, that is the devil." We render our enemy powerless when we are dead to ourselves and alive to Christ! Why is this, beloved? It's found in this simple truth about lions: A lion only stalks live prey. Signs of life in our flesh will always stir the enemy to the hunt. The more we die to ourselves the less power the enemy has.
Father render the lion powerless as I render my life to Thee.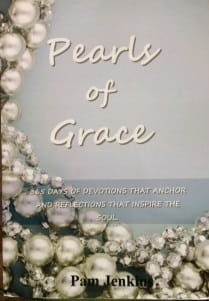 Pearls of Grace Devotional Book
Pearls of Grace is a book of devotions for the entire year, including a read through the Bible in a year calendar, broken down for every day. Beautifully written with encouraging words of hope and empowering words of joy and strength for every woman. Pam draws from the truth and richness of God's Word and gives real life examples in her down to earth style. A must have in your library, click here for more information.
For more from Pam Jenkins and Jabbok Ministries, please visit www.jabbokministries.com!
Listen to Pam Jenkins's daily broadcast on OnePlace.com.