December 7
The Yoke of Jesus
"Take My yoke upon you and learn from Me, for I am gentle and humble in heart, and you will find rest for your souls. For My yoke is easy, and My load is light."
What a delight to crack open an egg only to find that it has two yokes instead of one! The bringing together of two yokes into the shell of a single egg is a rare find in the natural occurrence of things, but when it happens, what a double blessing to the one feeding off the egg. When Jesus spoke of taking His yoke upon us, He was speaking of taking two yokes and bringing them together into one. It literally means, "a yoke that pulls two beasts together." What an extraordinary picture this paints for us. You see, precious one, when we are yoked to another, we are a captive audience to the one who is on the other side! When the burdens of life are too heavy, Jesus bids us to harness our fears, our worries, and strivings to His yoke, and He will pull the load along with us. His load, His yoke is easy, it's light, so with Him comes no burden or excessive weight. This heavy load of ours, once being pulled alone, is now harnessed up to strength Himself, and we are held captive by the hand of rest! Our challenge comes in the yoking.
There once was a man who had a heavy sack of rocks that he had been carrying for days trying to get home with them. He was traveling on foot and because the load was so heavy, he was bent way over underneath the weight of his burden. A passing wagon, upon seeing the wearied traveler, stopped and offered the man a lift. The man gladly accepted the kind offer and climbed up in the back, thankful for the ride. As the wagon journeyed on down the road, the driver looked back in total amazement. The man was sitting in his wagon with the sack of rocks still upon his shoulders. The help of the stranger to carry his load was wasted because the man refused to set down his sack of rocks.
The Lord wants not only you, but He wants your load, too! So often we give ourselves to God in prayer only to hang on to the burdens of life, missing the blessing of the Yoke of the Lord. Why would we not want a yoke that was easy and light? Why would we not want rest for our weary souls? Jesus gives an awesome promise to the one who chooses His yoke, "you will find rest for your souls." It's when we experience Him with our own personal burdens that we learn rest. Rest is discovered upon the taking up of His yoke and the giving of ours unto Him. What a wonderful exchange. I'd rather be His captive audience than a lone carrier.
Give me the yoke of Jesus.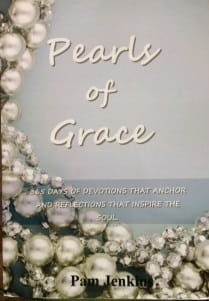 Pearls of Grace Devotional Book
Pearls of Grace is a book of devotions for the entire year, including a read through the Bible in a year calendar, broken down for every day. Beautifully written with encouraging words of hope and empowering words of joy and strength for every woman. Pam draws from the truth and richness of God's Word and gives real life examples in her down to earth style. A must have in your library, click here for more information.
For more from Pam Jenkins and Jabbok Ministries, please visit www.jabbokministries.com!
Listen to Pam Jenkins's daily broadcast on OnePlace.com.
Originally published Tuesday, 07 December 2021.