December 31
The Whisper
"…the tongue of the wise brings healing."
Words have powerful affects in the hearts of people. With them we can impart life or we can impart death, we can build up or tear down, we can make war or bring peace, we can extend forgiveness or rivet out judgment, we can open up a wound or administer healing. One word spoken in haste can alter the course of another's life forever. Words linger in the soul long after they are spoken or heard. Our minds can replay them over and over again, for once they are given out they no longer belong to the one who spoke them. They become instruments in the hearts of those who received them either for good or bad. Jesus spoke of the power of words in Matthew 12:36 & 37 when He said, "But I say to you that every careless word that men shall speak, they shall render account for it in the day of judgment. For by your words you shall be justified, and by your words you shall be condemned." Our words, beloved, follow us into eternity.
Words are God's gift to us in order to impart life into the lives of others. We are never to use them to destroy. There's a story of a little girl named Mary who grew up knowing she was different from all the other children. She was born with a severe cleft palate and had to bear the jokes and stares of cruel children who teased her unmercifully because of it. They made fun of her misshaped lip, her crooked nose and mimicked her garbled speech. With all the teasing, little Mary grew up hating the fact that she was "different". She was convinced that no one, outside of her family, could ever love her until she entered Mrs. Leonard's classroom. Mrs. Leonard took a special interest in Mary, having never been able to have children of her own. She made her the classroom helper and gave her extra attention every chance she got. Mary grew to love her teacher very much.
Every year the children were administered a hearing test by the teacher and then sent on for further examination by a professional, if needed. The test was always the same; the teacher would call the student to the front of the class and have them stand over by the door with one ear toward the teacher's desk and the other toward the door. The teacher would lean into the ear being tested and whisper a sentence in which the child had to repeat loud enough for the entire class to hear. The sentences were always similar like; "I'm in Mrs. So and So's class, or I am a fifth grade student, etc. Mary had watched with great nervousness as the rest of the class was called up and each one passed with flying colors. She dreaded standing up before the entire class because of all the glares and comments she was sure to receive. Her time came and Mrs. Leonard called her up, bent down and whispered gently into her ear. Mary looked puzzled for a second and asked the teacher to repeat it once more before she spoke it out loud to the class. The class erupted with laughter but after quieting them back down, Mrs. Leonard whispered once more into Mary's ear. Mary looked up at Mrs. Leonard with tears in her eyes as she repeated these words out loud for all to hear: "I wish you were my little girl." From that moment on Mary's life took a new turn. She began seeing herself as a beautiful little girl who was loved and wanted. Sometimes, even a whisper can change a life.
People come and go in our lives, but their words remain with us forever. What words have you spoken into the lives of others? Did they bring life or death, inflict pain or bring healing, did they build up or destroy? The power of words, beloved, can forever change the course of someone's life. "Be quick to hear and slow to speak" (James 1:19), for what we speak today will bring forth a harvest in the life of another tomorrow.
Make my words a fountain of life giving water.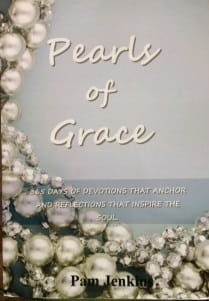 Pearls of Grace Devotional Book
Pearls of Grace is a book of devotions for the entire year, including a read through the Bible in a year calendar, broken down for every day. Beautifully written with encouraging words of hope and empowering words of joy and strength for every woman. Pam draws from the truth and richness of God's Word and gives real life examples in her down to earth style. A must have in your library, click here for more information.
For more from Pam Jenkins and Jabbok Ministries, please visit www.jabbokministries.com!
Listen to Pam Jenkins's daily broadcast on OnePlace.com.
Originally published Friday, 31 December 2021.