December 29
The Secret of Contentment
"I have learned to be content in whatever circumstances I am. I know how to get along with humble means, and I also know how to live in prosperity; in any and every circumstance I have learned the secret of being filled and going hungry, both of having abundance and suffering need. I can do all things through Him who strengthens me."
We are never in want when we are found to be with Jesus no matter where that place may be. When He is present we discover the secret of contentment, the secret that the Apostle Paul discovered in the prisons of Rome. He discovered that Jesus was much more than a companion, much more than a King sitting upon the throne of heaven, much more than the Son of God who came and was crucified on a cross for our sins, much more than a great teacher and prophet. He found Him to be all that he needed in any situation and circumstance no matter how horrific, no matter how costly. And in finding Him to be all that he would need, he found Him to be all that he would ever want.
It's not until we are stripped bare of everything we hold dear to our hearts that we realize the worth of the one who is dear. Only when the treasures of the heart are poured through the sifter of suffering and persecution, and only when the comfort and strength we've known are ripped out from under us without warning through the perils of brokenness that the priceless is unveiled before our eyes. God gives His greatest revelations during the hours of darkest night, and from the ashes of ruin the Lord will raise up a most holy temple in order to display His power and glory. Through death God brings life and He takes away in order to give more abundantly.
God's Word is filled with living proof of this from the lives of those who suffered for Him. Job lost everything he had including all of his children in one day, yet in the end God have him a double portion. Esther was paraded as a concubine before the king so God could make her an instrument of salvation for His people. Joseph was sold into slavery in order to give him the scepter of Egypt. Moses fled to the desert as a murderer so God could make him into a deliverer. Only God can take the most hopeless of situations and make it into a venue of hope for others in the future. John Bunyan said; "I never had in all my life so great an inlet into the Word of God as now; those scriptures that I saw nothing in before, are in this place and state, (Bedford Jail), made to shine upon me. Jesus Christ also was never more real and apparent than now where I have seen and felt Him indeed!"
When Samuel Rutherford was being held in Aberdeen prison because of his faith it is told that he used to write at the top of all of his letters, "God's Palace, Aberdeen." Corrie Ten Boon said: "There is no place so dark that God cannot find you, no pit so deep that He is not deeper still". Madam Guyon, when she was imprisoned in the castle of Vincennes said, "It seems as though I were a little bird whom the Lord has placed in a cage, and that I have nothing now to do but to sing."
Whatever it is, no matter how painful, know that it is here in this place of destitution that God will draw near, this place where you cannot understand why, is where He will teach you His ways, and it is in this place of darkness He will shine the brightest. The nether springs flow from the lowest of valleys, beloved, and the sweetest fragrance is unleashed among the thorns.
I will find thee abundantly in the lowly places.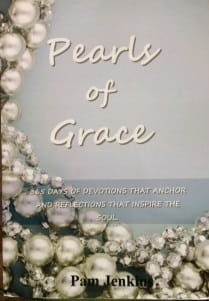 Pearls of Grace Devotional Book
Pearls of Grace is a book of devotions for the entire year, including a read through the Bible in a year calendar, broken down for every day. Beautifully written with encouraging words of hope and empowering words of joy and strength for every woman. Pam draws from the truth and richness of God's Word and gives real life examples in her down to earth style. A must have in your library, click here for more information.
For more from Pam Jenkins and Jabbok Ministries, please visit www.jabbokministries.com!
Listen to Pam Jenkins's daily broadcast on OnePlace.com.
Originally published Wednesday, 29 December 2021.