December 13
Longing for Home
"For our citizenship is in heaven, from which also we eagerly wait…"
I opened up the note that had been sent to me by one of my dearest friends and precious co-laborers in the Lord. She is a woman who has walked firm in her faith with the Lord through great times of devastation. Her words read, "only God can make us homesick for a place we've never been." It's the greatest cry of every child of God; "I want to go home." It's a longing of soul that cannot be measured and it will never be satisfied until it is with the One it loves. There will be a day with no more pain, when suffering vanishes and the burdens of the soul take flight as an eagle to the heights of the unknown. The tears of the broken will be wiped away by the hand of a merciful Father. There will come a day when God will bend low, stretching forth His arms to cup your face in His loving Hands and there, face to face say; "I've been waiting so long for you, my precious child, welcome home."
The memories of this life will roll away as the tide from the shores of the earth and with it; carry all its sorrows away out into the depths of forgetfulness. Those things that weighed our hearts down with grief and sapped the strength within us will fade away in the light of the One Who is Mighty to save. The soul is at perfect peace for rest has finally come. The sojourner has finally come home. On his deathbed, D. L. Moody described his call to come home. Listen to his words spoken to his son, Will; "Earth recedes, heaven opens before me. No, it is no dream, Will. It's beautiful. It is like a trance. If this is death, it is sweet. God is calling me and I must go. Don't call me back!"
There will come a day, precious child of God, that you will hear Him say your name. As the heavenly voice beckons you to your homeland, your soul will soar toward the Heavenlies, because it cannot refuse the call of home. And as your soul ascends upward, there below you, slipping from view will be every valley your feet have trod, each and every mountain you have climbed, the mighty waters that engulfed your heart with fear, every storm that swept over your heart to rob you of life and every failure. Ruth Graham wrote that when she dies she hoped that the Lord would allow her soul to ascend slowly. She understood that death for the child of God was gloriously beautiful and should be anticipated with joy allowing the soul to savor every moment of this heavenly transport.
Nothing will be hidden from view on that day for the light will illuminate with revealing power that God has kept you in perfect peace. It's your homecoming, beloved, the day that you will toil no longer for it will be finished. The Author and Perfector of your faith will write, "It is finished." It is the anchor of the soul. The hope that holds every child of God, yearning to be with the One Who yearns for us. Are you homesick for home? Home is where your heart is, beloved. Homecoming day is coming. Set your hope in this!
Forever I will be with the Lord.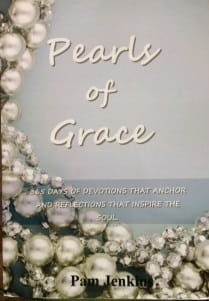 Pearls of Grace Devotional Book
Pearls of Grace is a book of devotions for the entire year, including a read through the Bible in a year calendar, broken down for every day. Beautifully written with encouraging words of hope and empowering words of joy and strength for every woman. Pam draws from the truth and richness of God's Word and gives real life examples in her down to earth style. A must have in your library, click here for more information.
For more from Pam Jenkins and Jabbok Ministries, please visit www.jabbokministries.com!
Listen to Pam Jenkins's daily broadcast on OnePlace.com.