December 1
Leaving a Legacy
"For I am mindful of the sincere faith within you, which first dwelt in your grandmother Lois and your mother Eunice, and I am sure that it is in you as well."
II Timothy 1:5
Paul was remembering the sincere faith of a young disciple named Timothy. He was reminding this young follower that his sincere faith was a precious legacy left to him by his mother and grandmother. What better legacy for us to leave our children or our grandchildren, than that of sincere faith in the Lord Jesus Christ. A spiritual legacy will live on from generation to generation. There may be no great trophies or prestigious awards adorning your walls but, the life that has been adorned for God, will far outweigh any earthly prize. The legacy you leave can be your greatest achievement if, it is a legacy that will beckon the next generation to a higher calling.
Generations are losing their way because they have no Godly legacies to light the path they should travel. Where are the paths of holiness and why are there no voices standing on the walls crying out for the next generation? Why are there no lives ablaze for God to light their way? Godly legacies are a dying breed and generation after generation are wandering aimlessly in search of the path of life, but there are no foot prints to show them the way they must go. How are they to know the way of the ancient paths if we do not show them? And how can we show them the ancient paths if we have never trod them ourselves? You cannot leave a Godly legacy if you have not lived a Godly life. Your life will become your legacy to the next generation, be it good or bad.
The only things worth leaving our children, that will help them long after we are gone, are those things that pertain to God. Do you want to leave your children financially secure? Leave them Jehovah Jireh, the One who provides. Do you want to leave them protection, then leave them the Deliverer Himself. Do you want them to be happy, then leave them the only One Who can give true joy. Do you want them to have comfort, then leave them the Comforter. Do you want them to find true love, then leave them to God, who is love. Do you want to remove the fear of death for them, then leave them the eternal One. Do you want to see them again? Then leave them Jesus. Choose every day to live a Godly life that you may leave a Godly legacy for the next generation. Generations have wandered too long only to come up lost.
SET ME ABLAZE FOR YOU, THAT YOU MIGHT LIGHT THE WAY FOR THE NEXT GENERATION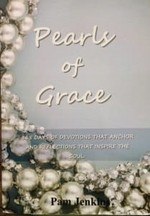 Pearls of Grace Devotional Book
Pearls of Grace is a book of devotions for the entire year, including a read through the Bible in a year calendar, broken down for every day. Beautifully written with encouraging words of hope and empowering words of joy and strength for every woman. Pam draws from the truth and richness of God's Word and gives real life examples in her down to earth style. A must have in your library, click here for more information.
For more from Pam Jenkins and Jabbok Ministries, please visit www.jabbokministries.com!
Listen to Pam Jenkins's daily broadcast on OnePlace.com.