August 9
The Aroma of Joy
..."a joyful heart is good medicine." 
Proverbs 17:22
"What's the funny for the day?"
This is a question that is asked every day by my most precious co-worker who sets her mind every day to find laughter in at least one thing. So, at the end of each workday, she'll ask me and our boss, Bruce; "okay, what's our funny for the day?" What you need to know is that her beloved husband and high school sweetheart is fighting his second battle with a rare form of blood cancer. Although it has been a long hard battle for the both of them, and one they are still fighting, her face always adorns a smile with an encouraging word for all who come across her path. It's like walking into a ray of sunshine for all who encounter her.
My precious friend, and co-worker, has found that rare secret that many have yet to discover; what you deposit in your heart's account will earn interest. It will grow and be available for one to draw upon when needed. Unfortunately, this is true of good deposits and bad ones. She chooses to deposit good ones every day by looking for those things that brought laughter, setting her mind on that which is: "good, lovely and true" as the Apostle Paul spoke of in Philippians 4:8. These moments of laughter she tucks away to draw upon later, like medicine to her soul. The beautiful thing about this is her soul's medicine is applied to so many others just by her presence in their lives. God intends for it to be so beloved because laughter is good medicine for any weary soul.
It's like the story of the 92-year-old man, who was well poised, fully dressed each morning by eight o'clock, with his hair fashionably combed and face shaved perfectly, even though he was legally blind mind you. His wife of 70 years had just passed away and he was moving into a nursing home. After many hours of waiting patiently in the lobby of the nursing home, he smiled sweetly when told his room was ready. As he maneuvered his walker to the elevator, the nurse began giving him a visual description of his tiny room, including the eyelet sheets that had been hung on his window. "I love it", he stated with the enthusiasm of a child at Christmas time. "Mr. Jones", said the nurse, "you haven't seen the room yet, just wait." "That doesn't have anything to do with it", he replied. "Happiness is something you decide on ahead of time. Whether I like my room or not or even how the furniture is arranged, it's how I arrange my mind and I've already decided that I love it. It's a decision I make every morning when I wake up.
I have a choice. I can spend the day in bed recounting the difficulty I have with the parts of my body that no longer work, or get out of bed and be thankful for the ones that do. Each day is a gift, and as long as my eyes are open, I'll focus on the new day and all the happy memories I've stored away just for this time in my life. Old age is like a bank account. You withdraw from what you've put in. So, my advice to you would be to deposit a lot of happiness in the bank account of memories! Thank you for your part in filling my memory bank he said with a smile, I'm still depositing."
Remind me to make big deposits out of today!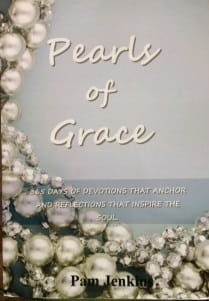 Pearls of Grace Devotional Book
Pearls of Grace is a book of devotions for the entire year, including a read through the Bible in a year calendar, broken down for every day. Beautifully written with encouraging words of hope and empowering words of joy and strength for every woman. Pam draws from the truth and richness of God's Word and gives real life examples in her down to earth style. A must have in your library, click here for more information.
For more from Pam Jenkins and Jabbok Ministries, please visit www.jabbokministries.com!
Listen to Pam Jenkins's daily broadcast on OnePlace.com.
For more from Pam Jenkins and Jabbok Ministries, please visit www.jabbokministries.com!
Listen to Pam Jenkins's daily broadcast on OnePlace.com.
Originally published Tuesday, 09 August 2022.