August 8
Asking, Knocking and Opening
"Ask, and it will be given to you; seek, and you will find; knock, and it will be opened to you."
I want to share a "KNOCKING" with you today. May you use it to storm the favor of Heaven and in the rain that falls there in may the sky open up before you!
Dear Father, I come to you knowing that I am your child and you care for me more than I could ever know. I am weak but Lord you are strong. My heart's desire is to be all that you would have me be, pleasing to you in every respect. I ask you to change me, break me, mold me, empty me and fill me with You. Give me the humility of Noah for there was none more humble in all the earth. Keep pride far from me Lord for you cannot use a prideful heart. Cause me to remember every day that there is no good thing that dwells in me but You.
I pray that you would give me the Faith of Father Abraham who believed You for the impossible knowing You would not fail and believing You to have all power over any and every circumstance knowing that without faith it is impossible to please You. Make me a woman of great faith allowing no room for doubt in my mind and heart. Instill in me a reverence for You as Job had for he was blameless and feared You turning away from evil. Give my heart a fear of sin and a hunger for holiness. Guard my comings and goings and deliver me from every temptation. Give me the courage of King David who stood before even the fiercest of enemies and though a host encamped against him, he feared no evil believing His God to be mighty to save. Make me bold with strength in my soul.
Give me the wisdom of Solomon which is from above that I may know You and Your ways so I may teach others. Direct me to make godly decisions concerning everything. Pour out a double portion of Elisha's spirit upon me so that even my bones would bear the power of God to the grave and beyond. It's not by might nor by power but by your Spirit Lord that You accomplish great and mighty things upon this earth.
Give me the earnestness of prayer as that of Hannah who never let up until You heard her petition and answered from Your holy hill. Make me a woman of prayer. Give me the tears of Jeremiah weeping for the brokenness and sin of Your people. Break my heart with the things that break Your heart oh God, and give me a burden to reach the lost at any cost. Give me the tenacity of Isaiah who cared not what others thought of him but only that he might deliver Your message to Your people. Let me not let up in your fields of service even if it cost me my life. Help me to finish strong Father.
Give me the heart of Paul who was willing to give his very life for Your people that they may know You all the more. He considered his life not dear to himself that he may finish the course and fulfill the ministry You gave him to testify solemnly of the grace of God through the Gospel of Jesus Christ. Let me never forget that I am among all the saints, the chief most of sinners, who has been saved by grace and grace alone. I ask you for the anointing power of Peter that even my clothes would bear the presence of the Almighty. When I enter a room, may they know God has walked in because Your anointing is so powerful. Hide me behind the cross of Calvary.
Make me keep me desperate for You just as the woman who had been sick for 12 years was for You, pressing through the crowd and distractions of this life just to get to You. Press me onward until I have settled at your feet laying hold of the hem of Your holy garment. And there, in that fall, have all of me.
In Jesus name I pray,
Amen
More of You Lord…none of me.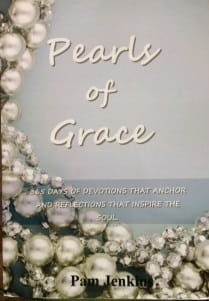 Pearls of Grace Devotional Book
Pearls of Grace is a book of devotions for the entire year, including a read through the Bible in a year calendar, broken down for every day. Beautifully written with encouraging words of hope and empowering words of joy and strength for every woman. Pam draws from the truth and richness of God's Word and gives real life examples in her down to earth style. A must have in your library, click here for more information.
For more from Pam Jenkins and Jabbok Ministries, please visit www.jabbokministries.com!
Listen to Pam Jenkins's daily broadcast on OnePlace.com.
For more from Pam Jenkins and Jabbok Ministries, please visit www.jabbokministries.com!
Listen to Pam Jenkins's daily broadcast on OnePlace.com.
Originally published Monday, 08 August 2022.