August 5
A True Friend
"A friend loves at all times."
There are "acquaintances" and then there are true friends. It's been said that when you die if you have one true friend in this life you are truly blessed. Friendship is a most precious gift from God for every good gift is from above. The ability to love that friend is also found from above through the love of the Father. God knew in His sovereignty that you and I would need friends as helping hands in our lives to keep us going on for Him. He sent them to be His hands when we need comforting, His feet when we need to be carried, His love when we are rejected, His words when we need peace, His companionship when we are lonely, His laughter when we are sad and His guidance when we have lost our way. But in all these things God's Word tells us that a true friend "loves at ALL times". This is the friendship of God beloved. Listen to the story of a little boy who understood this kind of friendship: "There was a four-year-old boy whose next-door neighbor was an elderly gentleman and had recently lost his wife. Upon seeing the man cry, the little boy went into the old gentleman's yard, climbed onto his lap, and just sat there. When his Mother asked what he had said to the neighbor, the little boy said, 'nothing, I just helped him cry'"
There have been great friendships given throughout history that are perfect examples for us to follow: David and Jonathan are two that God so drew their hearts together that they were knit to the soul of the other. Martin Luther who inspired the Protestant Reformation had a close friend by the name of Philipp Melanchthon. Their bond was so strong that Philipp, when asked about the strength of their friendship answered, "I would rather die than be separated from this man". They were inseparable put together by the hand of God for their time for His work of reformation. Even Martin Luther, who stood strong and unwavering in his belief that salvation is of grace, when challenged by the Pope himself and the assembly and Emperor Charles the Fifth, needed a friend that would "love at all times".
Even Jesus had his inner circle of three that were with him during the intense moments of His life when none other were privy to it. There are those friends, those spirit mates knit to our hearts by the very hand of God that He gives to us because He knows we need them to accomplish the work He has for us to do. God tells us in Proverbs 18:24, "A man of too many friends comes to ruin, but there is a friend that sticks closer than a brother." This is that God given friend who loves you completely to the uttermost, that friend that is closer than even family as Proverbs tells us. What kind of friend are you dear one? Listen to a four year old boy named Billy when he was asked what it means to love someone, "when someone loves you, the way they say your name is different. You just know that your name is safe in their mouth". Is your friends name safe in your mouth beloved?
Thank you for the friend you have given to me.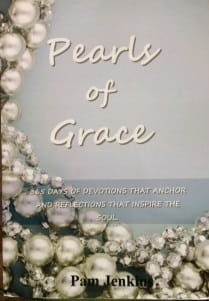 Pearls of Grace Devotional Book
Pearls of Grace is a book of devotions for the entire year, including a read through the Bible in a year calendar, broken down for every day. Beautifully written with encouraging words of hope and empowering words of joy and strength for every woman. Pam draws from the truth and richness of God's Word and gives real life examples in her down to earth style. A must have in your library, click here for more information.
For more from Pam Jenkins and Jabbok Ministries, please visit www.jabbokministries.com!
Listen to Pam Jenkins's daily broadcast on OnePlace.com.
For more from Pam Jenkins and Jabbok Ministries, please visit www.jabbokministries.com!
Listen to Pam Jenkins's daily broadcast on OnePlace.com.
Originally published Friday, 05 August 2022.