August 4
When Night Falls "He is your praise; He is your God, Who performed for you those great and awesome wonders."
When God seeks to raise up a truth or to elevate His name in a particular time and place, it will be to secure His child or call His child to repentance. God magnifies His promises and His very character during trying times, not in the midst of easy living. He wants to enlarge the realness of His presence to our faith in order to strengthen our trust and confidence in Him. Challenging times gives us the rare opportunity to cooperate with God. He loves it when we cooperate with Him! He intends to lift our eyes from the temporary so He can settle them in on what's eternal. Sad to say it takes God turning out the light in our life for a brief amount of time for us to look to Him and really see Who He is. When darkness falls, we tend to search out the light don't we?
With every day of our living, we have two choices, look up or look down. Everything God allows to pass through our lives is sent on a mission; to cause us to look up. Often times we are so focused on what's below, that we miss what's up above us. But with every moment of darkness there is a precious gift imparted into our soul; the familiarity of God's presence. We will not realize He's near unless our situations seem to be outside of His reach. It's a mystery isn't it? What we come to realize in the light, we have most always learned in the dark. Times of darkness can be one of the most spiritually rewarding times in our Christian walk if we will fix our gaze upon the One Who is the Light. After all, this is where God has intended for our eyes to look.
We will miss God's plan, purpose and will if we struggle against those ordained places of God that we find ourselves in that we never would have chosen. His greatest gifts to us are often wrapped up in suffering and loss. But with each opening, we can remember the unchanging truths He has been revealing to us over and over again and in the remembering we can shout forth a praise! Our soul will remember the mighty deeds of the past performed by God and in that memory muscle of recalling truth, we will find our lips filled with praise for Him and our hearts overtaken with faith.
Offer up praise where you are today.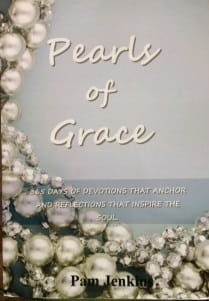 Pearls of Grace Devotional Book
Pearls of Grace is a book of devotions for the entire year, including a read through the Bible in a year calendar, broken down for every day. Beautifully written with encouraging words of hope and empowering words of joy and strength for every woman. Pam draws from the truth and richness of God's Word and gives real life examples in her down to earth style. A must have in your library, click here for more information.
For more from Pam Jenkins and Jabbok Ministries, please visit www.jabbokministries.com!
Listen to Pam Jenkins's daily broadcast on OnePlace.com.
For more from Pam Jenkins and Jabbok Ministries, please visit www.jabbokministries.com!
Listen to Pam Jenkins's daily broadcast on OnePlace.com.
Originally published Thursday, 04 August 2022.