August 29
Are You Pouring Water On the Fire?
"Do not quench the Spirit."
The Holy Spirit is very sensitive to His environment and He is completely shut down when holiness is disregarded on any level. There are times when we stifle the working of the Holy Spirit; a working that He longs to accomplish. Although He is powerful, mighty and strong; all that God is, His freedom to work through us is dependent upon us. He is willing; always willing and anxious to be about the Father's business so He desires to work through our lives. But, we must allow Him to and maintain His freedom to continue flowing through us. We do this by guarding ourselves from sin, wrong attitudes, ulterior motives or selfish ambitions. His freedom is determined by our surrender!
Although we work together, cooperating as one in order to accomplish the Father's will and plan, we respond opposite to one another. He's after freedom to flow in and through me, but I'm after surrender; surrender of all of me, my thoughts, will, heart and actions. The more I surrender, the more freedom He has. Once the Holy Spirit has been given the right to unleash Himself in my life, then I must go in super protective mode to keep the flood gate open. His working can be shut down immediately at the first sign of broken fellowship with God. I must guard myself from anything that would offend Him or God in any way. This is a sure way to cut off His liberties. When this happens, it is called, "quenching the Spirit".
Quenching the Holy Spirit is like going out and building a big fire and then just as soon as that fire reaches its peak of flaming, I come along and pour a big bucket of water on it. What happens when you pour water on a fire? It douses the flame immediately doesn't it? In order for God's manifested presence to be seen and felt by others then I must make it my highest concern to protect the freedom of the Holy Spirit to operate within me. I must cooperate with Him on every level and keep myself fully aligned with the Word and will of God. When these two things are present then the Holy Spirit and self can co-labor together with great effectiveness.
Have you been an offense to the Holy Spirit?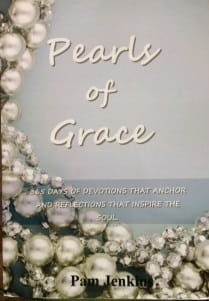 Pearls of Grace Devotional Book
Pearls of Grace is a book of devotions for the entire year, including a read through the Bible in a year calendar, broken down for every day. Beautifully written with encouraging words of hope and empowering words of joy and strength for every woman. Pam draws from the truth and richness of God's Word and gives real life examples in her down to earth style. A must have in your library, click here for more information.
For more from Pam Jenkins and Jabbok Ministries, please visit www.jabbokministries.com!
Listen to Pam Jenkins's daily broadcast on OnePlace.com.
Originally published Monday, 29 August 2022.