The Urgent Heart
"But having the same spirit of faith, according to what is written, 'I believed, therefore I spoke,' we also believe, therefore we also speak."
Every Sunday afternoon, after the morning service at the church, the Pastor and his eleven-year-old son would go out into their town and hand out Gospel Tracts. This particular Sunday afternoon, as it came time for the Pastor and his son to go to the streets with their tracts, it was very cold outside, as well as pouring down rain. The boy bundled up in his warmest and direst clothes and said, 'OK, dad, I'm ready! His pastor dad asked, 'ready for what?' 'Dad, it's time to go out pass out our tracts.' His dad responded, 'Son, it's very cold outside and it's pouring down rain.' The boy looked surprised at the dad and said, 'But dad, aren't people still going to Hell, even though it's raining? The dad, still refusing to go due to the weather was finally persuaded by his son to allow him to go out on his own.
The young boy trekked along the wet streets for over two hours until he was finally down to his last tract. He looked around and noticed that the streets were deserted. Determined not to return home until he had given out the very last one, he saw a house light on across the street and headed up the sidewalk to the front door. He reached up and rang the doorbell and waited, but nobody answered. He rang it again and again but still no one answered. Finally after several attempts the young lad turned to leave but something stopped him. Again he knocked but this time with urgency that seemed to have been placed there by the hand of God Himself. He began knocking even louder with his fist refusing to leave until someone came to the door.
Finally an elderly lady opened the door and softly asked, "Can I help you son?" with radiant eyes and a smile as wide as Heaven itself he said, "Mam, I'm sorry if I disturbed you but I just wanted to tell you that JESUS REALLY DOES LOVE YOU and I came to give you my very last Gospel tract which will tell you all about Him." With that he turned to leave. The following Sunday morning in church the Pastor dad asked if anyone there had a testimony they wanted to give. Slowly in the back of the church an elderly lady stood to her feet. As she stood to speak, her face glowing she said, "no one knows me here. Before last Sunday I was not a Christian. It was on that day, which was already gloomy enough that I decided to end my life. I had no reason to live any longer. I took a chair to the attic and tied a rope around the rafters of the beams and as I stood on the chair to place the rope around my neck and just as I was about to leap from the chair I heard the doorbell rang. I thought if I didn't answer they would just leave but they continued.
Then the person began knocking and I thought to myself, no one comes to see me ever so maybe something is very wrong so I decided to climb down and go see what it was. When I opened the door the most radiant face met me that one could ever encounter and he told me that Jesus loved me. He even gave me a tract, which I took inside and took in every word written inside. It was as if they were written just for me. I gave my heart to Jesus that night all because of that little angel the Lord sent to my door. Your churches' name was on the back of that tract and I came here today to so thank you for telling me about the love of Jesus and saving my soul from an eternity in hell." We can never get back lost moments. Use them to God's glory and make every minute count for eternity.
Make my heart purposeful to speak of Jesus and my feet swift to carry him to the ends of the earth.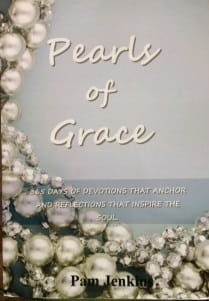 Pearls of Grace Devotional Book
Pearls of Grace is a book of devotions for the entire year, including a read through the Bible in a year calendar, broken down for every day. Beautifully written with encouraging words of hope and empowering words of joy and strength for every woman. Pam draws from the truth and richness of God's Word and gives real life examples in her down to earth style. A must have in your library, click here for more information.
For more from Pam Jenkins and Jabbok Ministries, please visit www.jabbokministries.com!
Listen to Pam Jenkins's daily broadcast on OnePlace.com.
For more from Pam Jenkins and Jabbok Ministries, please visit www.jabbokministries.com!
Listen to Pam Jenkins's daily broadcast on OnePlace.com.
Originally published Friday, 27 August 2021.