August 16
Captured Thoughts Capture the Heart
"How precious also are Your thoughts to me, O God! How vast is the sum of them!
If I should count them, they would outnumber the sand. When I awake, I am still with You."
Psalm 139:17&18
The mind is powerful to promote life and influential to bring death. Knowledge can be the most destructive weapon we have. We can use it against others or even against ourselves without even realizing it. We are taught this principle in the account of creation found in Genesis Chapters 2 and 3. God created His world with a boundary in existence between light and darkness. He established their separation before He established any other order, separation or life form. And to hold to this separation God gave Adam instructions saying, "From the fruit of any trees of the garden you may eat freely but from the fruit of the Tree of the Knowledge of Good and Evil you may not eat, for in the day you eat it you shall surely die."
What was God teaching us in this? There is a boundary that we are not to cross and that boundary is the separation between light and darkness or good and evil. This tree of knowledge had both growing upon its branches so this tree was off limits to God's children. It's warning from God to us for living; GUARD YOUR MIND! How do we guard our minds? By not feeding it with bad fruit; evil, distorted and perverted worldly thoughts, knowledge or ideas. God wanted Adam and Eve to protect their thinking because once a thought enters the mind, it leaves its mark forever. Once we've been exposed to something perverted, distorted or evil we never lose the knowledge of that. It's with us forever. It is this foundational rule of living set forth in the very beginning.
Whatever concerns the mind, burdens the heart. If something or someone occupies your thoughts, then they will rule your heart. Our thoughts and actions are directly linked to one another because knowledge gives birth to action if it is not combated with other knowledge that changes the course of thinking. Thoughts will make us its captive if not removed from our mind. But there is a thought that God has allowed to take His heart captive; YOU, His child. The Psalmist reveals the thinking pattern of God. He gives us a peek at what consumes the mind and heart of the Almighty Creator. And true to form, what captivates the mind takes hostage the heart! If you are on the forefront of God's mind; so much so, that the thoughts He has toward you are so vast that they would outnumber the sand, then I'd say you have taken God's heart captive.
Night and day, you are on the mind of God and day and night His heart is fully yours. Never doubt your value to God and even more so, the love and affection that belong to you. God is loyal and ever faithful. Will you reciprocate God's love? Can He have the monopoly on your thoughts. Will you become His captive?
His thought…your love.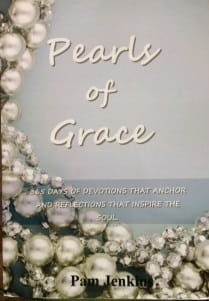 Pearls of Grace Devotional Book
Pearls of Grace is a book of devotions for the entire year, including a read through the Bible in a year calendar, broken down for every day. Beautifully written with encouraging words of hope and empowering words of joy and strength for every woman. Pam draws from the truth and richness of God's Word and gives real life examples in her down to earth style. A must have in your library, click here for more information.
For more from Pam Jenkins and Jabbok Ministries, please visit www.jabbokministries.com!
Listen to Pam Jenkins's daily broadcast on OnePlace.com.
For more from Pam Jenkins and Jabbok Ministries, please visit www.jabbokministries.com!
Listen to Pam Jenkins's daily broadcast on OnePlace.com.
Originally published Tuesday, 16 August 2022.