August 14
Our Help Comes from the Lord 
"Oh give us help against the adversary, for deliverance by man is in vain."
There is an Almighty One watching over us in Heaven. His view is never obstructed or blurred by the deeds of mankind or the dilemma of the world. He has a perfect view from where He sits. In fact, you could say, that He has the best seat in the place! But God doesn't just sit and watch over His universe, He rules over it as well. He is never without full command and control. You will never catch Him off guard and there is never a situation that He's not fully watching over every detail of. He's highly involved in every detail of the lives in His world and the life of His child. Just when we think we can't make it another day, we remember the Almighty One; the One Who is by far greater than anything that assaults our thinking, our emotions or our day. He is never disconnected or uninterested in our life. After all, He is a Father!
God is girded about with strength and He is surrounded on every side with unchanging and unfailing deliverance. This is why He is the Almighty One! He cannot fail, sin, fall short, and He cannot lie. He cannot deny Who He is. He can't be tricked, swindled, manipulated, swayed, bought or refused. He can never be anything less than the whole of Who He is at all times. There are no constants in this life, for the one who is on this side of Heaven. But, there is One Who is Constant! We can trust in this truth and hold on to it all the way home. We have such a strong and mighty God who rules above all! So, why do we not call to Him when we need help; when we need saving? What makes us try to handle things on our own rather than turning to God Who can handle all things? Confusing cycle of life, but nonetheless true!!
With a God so powerful and constant, why would we not call to Him when the enemy attacks? Why would we run to the arm of the flesh seeking help that is limited, weak and very able to fail us in our time of need? How could we deny, reject, refuse or deny the unstoppable force of God? When and if we need victory over something…anything, we have One Who can never be defeated. All we must do is turn our face, our problems, our situations, and our very lives to face Him and cry to Him in our times of difficulty and need. What are you faced with today? Where are running to for your source of strength and on whom are you depending to help you through?
God has never lost.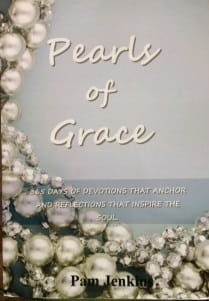 Pearls of Grace Devotional Book
Pearls of Grace is a book of devotions for the entire year, including a read through the Bible in a year calendar, broken down for every day. Beautifully written with encouraging words of hope and empowering words of joy and strength for every woman. Pam draws from the truth and richness of God's Word and gives real life examples in her down to earth style. A must have in your library, click here for more information.
For more from Pam Jenkins and Jabbok Ministries, please visit www.jabbokministries.com!
Listen to Pam Jenkins's daily broadcast on OnePlace.com.
For more from Pam Jenkins and Jabbok Ministries, please visit www.jabbokministries.com!
Listen to Pam Jenkins's daily broadcast on OnePlace.com.
Originally published Sunday, 14 August 2022.